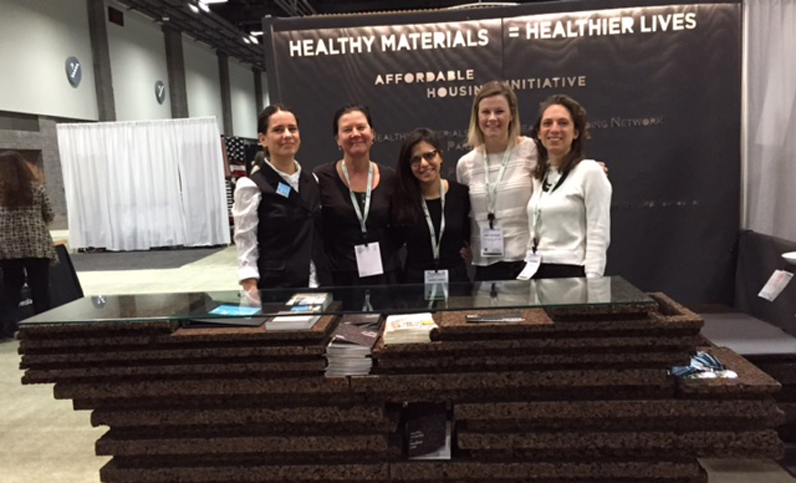 Healthy Materials Lab Holds Court at Greenbuild Convention
Students and faculty members from Parsons School of Design's Healthy Materials Lab (HML) felt right at home at Greenbuild International Conference and Expo, the largest convention dedicated to sustainable building, last month.
Holding court at their very own floor booth at the Washington, D.C. event, research fellows and faculty members shared their passions for affordable healthy building alternatives and socially engaged design with attendees from around the globe.
"Members of Parsons Healthy Materials Lab were there to promote the benefits of industry transparency in the push to make our homes safer to occupy," Alison Mears, director of HML, said. They also provided a compelling argument to those companies already producing landmark healthy materials, to encourage them to rethink their product lines and open them up to affordable housing developers.
Healthy Materials Lab—an initiative funded by The JPB Foundation aimed at optimizing the health and transparency of building materials—is a partner in the Healthy Affordable Materials Project (HAMP), a collaboration between Green Science Policy Institute, Healthy Building Network, Health Product Declaration Collaborative and HML.
HML hit the ground running when it was launched earlier this year. Members of the initiative have: created a range of new tools to communicate the dangers lurking in everyday products; worked with local affordable housing developer Monadnock on ways to rethink the company's building materials and recently the HML re-launched the Donghia Healthier Materials Library at 25 E 13th Street with an exhibition of healthier materials.