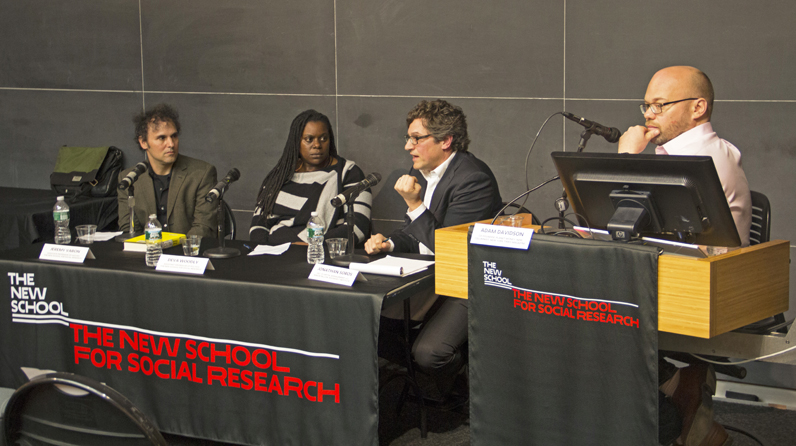 Jonathan Soros on the Power of Money in Politics
Standing before a crowd of New School board members, faculty, and students at the Anna-Maria and Stephen Kellen Auditorium Thursday, Jonathan Soros took a poll.
"How many of you dislike Citizens United?" Everyone's hand went up.
"And how many of you think there's too much money in politics?" Again everyone's hand went up.
"Then what I'm about to tell you," Soros said, "is going to sound a little controversial."
Though he's no fan of Citizens United, Soros' policy prescriptions for reducing the power of money in politics have nothing to do with overturning that 2010 Supreme Court decision, which unleashed a torrent of outside spending in political campaigns. Rather, his solution is to create another way for candidates to win elections—one that bypasses the influence of extremely wealthy donors and super PACs in favor of everyday citizens.
Soros made his remarks at "When Free Speech and Democracy Conflict: Campaign Finance in the Age of Citizens United," a panel discussion on the role of money in politics. Hosted by the Robert L. Heilbroner Center for Capitalism Studies at The New School for Social Research (NSSR), the event featured a lively and sometimes heated discussion between Soros, an activist for campaign finance reform and the son of billionaire business magnate George Soros; Jeremy Varon, associate professor of history at NSSR; Deva Woodly, assistant professor of politics at NSSR; and Adam Davidson, host of the National Public Radio program Planet Money.
Addressing one of country's most pressing issues, Soros laid out four arguments you wouldn't expect to hear from an advocate for campaign finance reform: "Money doesn't buy elections"; "The problem isn't that there's too much money in politics—it's the source of that money"; "Trying to limit money flowing into politics isn't going to work, and it could actually be dangerous"; and "The effects of Citizens United are significant, but they're not the effects you think they are."
"Citizens United is a useful shorthand for a system we hate," Soros, who is also CEO of JS Capital Management LLC and a senior fellow at the Roosevelt Institute, said. "You're all in good company with 80 to 90 percent of the American population, who also disagree with the Supreme Court's ruling in this case. But Citizens United didn't change the law very much. Everything you can do now you were able to do before."
Soros's solution? Instead of looking for ways to limit money in politics or doing away with Citizens United, "we should focus instead on creating an alternative path for candidates to achieve victory."
"We can do this through citizen-funded elections," he said, adding that systems in New York City, Seattle, and Arizona have demonstrated the efficacy of this approach.
In the spirit of The New School, Varon and Woodly questioned many of Soros's arguments. Varon wondered how Soros's solution would address the issue of "constant electioneering," whereby candidates are compelled to engaged in constant fund-raising to keep up with their competitors. Woodly questioned whether Soros' solution would "create the necessary incentive structure" to entice candidates to reject money from super PACs in favor of public money.
"How do you put the genie back in the bottle?" she mused. "How do you make people follow a system that's voluntary and outside the realm of big money?"
Soros countered that it would be politically advantageous for candidates to accept public campaign funds as a way to draw a distinction between them and their opponents.
"As a candidate, you could say, 'I'm only taking money from citizens, and he's taking money from rich people,'" Soros said. "Right now, there's no alternative to big money. Unless you create optionality—a path to victory that's viable—you're never going to have a choice not to accept money from super PACs and very rich donors."
The Robert L. Heilbroner Center for Capitalism Studies was a fitting venue for the discussion. Drawing on NSSR's tradition of exposing capitalism to critical and ethical scrutiny, the Center brings students and faculty from across The New School together for interdisciplinary conversations around theoretical approaches to and analytic methods for the study of capitalism.
"The center provides a pathway to a broader analysis of capitalism and economic and social change," New School President David Van Zandt said in his introduction. "These discussions involve students from a broad range of disciplines in analyzing and engaging with myriad forms of capitalism."