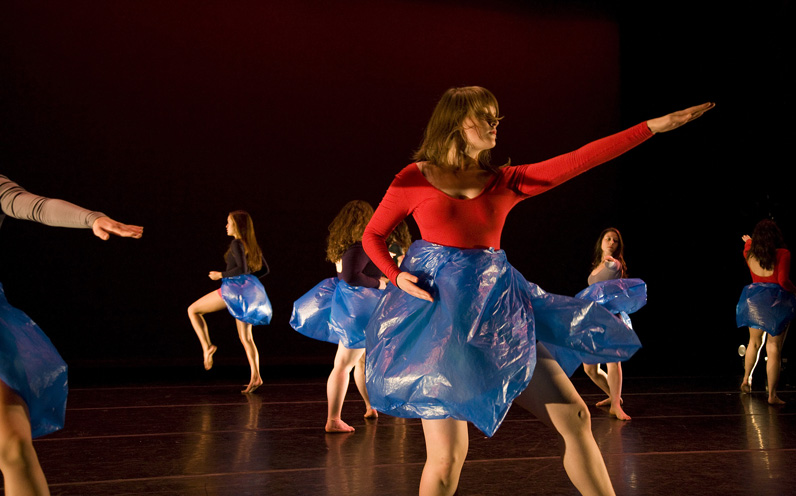 Lang Dance Creates Experiments with Choreography in Fall Production
Ella Wasserman-Smith (Lang '17) has studied dance for most of her adult life. But until recently, she didn't believe she was "capable of making a complete work."
"I had all these ideas, but I couldn't figure out a way to start," she recalls.
That was until she joined Dance Making class, one of Eugene Lang College's choreographic research courses. Under the guidance of Rebecca Stenn, part-time assistant professor at Lang, Wasserman-Smith was encouraged to explore her creativity, embrace trial and error, and, most important, "lighten up."
"There's a quote from Jonathan Burrows' A Choreographer's Handbook that's always stuck with me: 'It's just a stupid dance,'" she says, laughing. "You can't be afraid to make mistakes or be so quick to judge them as such."
By the end of the semester, Wasserman-Smith had produced her first choreographic work: 5-10-15: but I don't go there anymore, a piece for three dancers centering on the theme of habits and the impossibility of escaping them.
The work will be performed, along with several others, by Lang Dance students at the Lang Dance Fall Production, taking place Friday and Saturday, December 11 and 12 at 8:00p.m. at The New School's Tishman Auditorium. It is the first time the Lang Dance end-of-semester production will perform at Tishman.
The event will feature works by Nami Yamamoto, movement research artist-in-residence at Lang; Juliette Mapp, part-time lecturer at Lang and professional choreographer; and students Wasserman-Smith, Claire Page, Kristi Tartaglione, and Antonia (Nia) Deliso from Stenn's Dance Making Workshop.
Wasserman-Smith has made huge leaps since she joined the Dance Making course. Earlier this semester, she and her classmates focused on choreographic exercises—"little studies that got us thinking about what it means to work with multiple people, in different spaces and times," she says. Then, in the second half the course, Wasserman-Smith had to use what she learned to manifest her creative vision. It was through the course's collaborative, intellectually open environment that Wasserman-Smith was able to do just that.
"Rebecca has a way of nurturing creativity, of making a space where you're not afraid," she says, adding that "having everyone else working on and contributing to each other's projects is incredibly helpful."
Wasserman-Smith's experience is typical for a Lang Dance student. Unlike a traditional conservatory, which might focus largely on "works by dead choreographers," the program offers "an interdisciplinary experience focused on research, experimentation, and recent developments in the field of dance, informed by concerns with social responsibility and public engagement," says professor of choreography Neil Greenberg, who, along with assistant professor of dance Danielle Goldman, helped launch the program.
"We aren't a conservatory; we're situated in a liberal arts college," Greenberg continues. "A conservatory has 'conserving' as part of its mission; it focuses on the continuation of values and practices that a society already deems valuable. The central focus of the Lang dance program is the creation of new knowledge and practices through research and experimentation, which aligns with the larger mission of The New School."
Part of that mission is making use of Lang's location in the dance and experimental performance capital of the world. Students have the opportunity to attend performances at prominent institutions including New York Live Arts, Danspace Project, Judson Memorial Church, MoMA and The Kitchen; to instruct New York City middle school students; and to work with outstanding guest professionals to develop choreographic material for performance.
This semester, students in the Movement Research Repertory course worked with Yamamoto, an acclaimed dancer and choreographer originally from Matsuyama, Japan whose work has been presented throughout New York City. Students participated in a "super-intensive process"—choreographic exercises, personal exploration, and collaborative prototyping—"that all transformed into cohesive piece," Wasserman-Smith recalls.
"Getting to work with so many amazing choreographers, to see up close the unique and diverse ways of working, you come to the realization that there isn't one way to start, to proceed," Wasserman-Smith says. "You can go all sorts of ways."