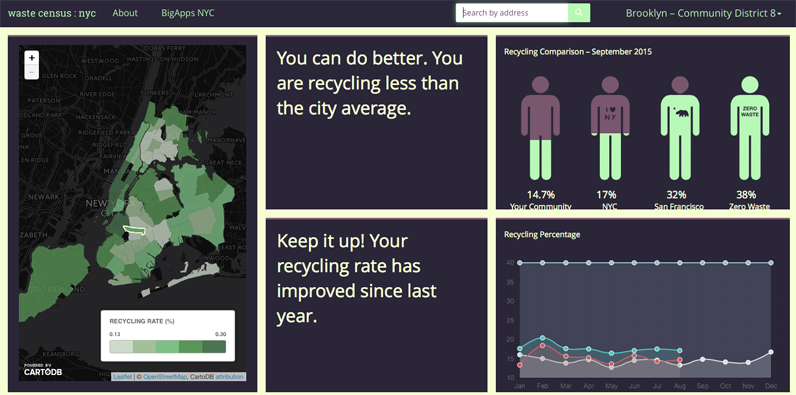 Parsons Students Reaching for 'Zero Waste' in NYC with New App
Each week, millions of New Yorkers keep thousands of tons of trash out of landfills by saving their recyclables.
But is it possible to achieve zero waste?
It may sound like a tall order, but Parsons School of Design students Darcy Bender and Bernardo Loureiro (Design and Urban Ecologies) are hoping to achieve that goal through an app that's designed to raise awareness on recycling, composting and reducing waste.
The app, Waste Census NYC, collects city data that measures the recycling commitment of each New York City neighborhood. Users can enter their address, find of how much their neighborhood is recycling and "compare their data to the city average."
"Our intention is that this will make people conscious of how much more we need to recycle, compost, and reduce to reach the zero waste goal," Bender and Loureiro said in a news story on the School of Design Strategies website.
Bender and Loureiro recently reached the semi-finals of the NYC BigApps competition, which challenges designers to create technologies that "improve New York City." More than $125,000 in prizes will be awarded in the competition.
"We believe in transparency and open data to transform urban systems," Bender and Loureiro said. "Right now there are discussions about how to achieve zero waste through changing behavior at a household scale. We believe that more data and data that is easier to read and understand at a personal scale can help support these important discussions.