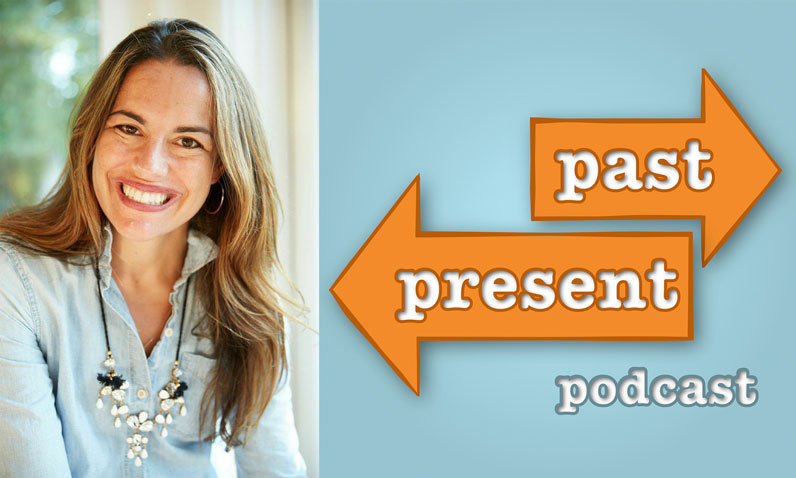 Natalia Mehlman-Petrzela Launches Hit History Podcast Past Present
On Past Present, a new podcast starring Assistant Professor of History Natalia Mehlman-Petrzela, "hindsight becomes foresight."
"The idea is to engage classic and historical content to better understand the present in a way that is exciting to people beyond professional historians," Mehlman-Petrzela says of the podcast's mission. "It's something my cohosts and I are very passionate about."
Launched independently last year, Mehlman-Petrzela and her co-hosts, fellow historians Nicole Hemmer and Neil J. Young, are "committed to engaging classic and cutting-edge historical scholarship to convey original and accessible assessments of contemporary politics and culture," Mehlman-Petrzela says.
The formula has proven to be a winner with listeners: in less than four months, Past Present rose to number one on iTunes' "New and Notable" list in the "News and Politics" category and attracted 10,000-plus subscribers. Two general-interest websites, Public Seminar and the recently launched PREGAME, will syndicate Past Present in 2016.
"We are thrilled at the positive listener feedback, which ranges from professional historians who use our segments in the classroom and to those outside of academia," Mehlman-Petrzela says. "One listener told us, 'I didn't think history was that interesting until I overheard my husband listening to an episode, and now I am hooked.'"
As the resident "historian of gender and sexuality" on Past Present, Mehlman-Petrzela has introduced segments on Planned Parenthood, marriage equality, the rise of LGBTQ-friendly corporate policies, the history of menstruation regulation, and the new figure of the "Instamom," among others. Hemmer and Young cover politics and religion, respectively.
Says Mehlman-Petrzela, "On the air, I endeavor to cultivate the exciting interplay between casual listener and professional scholar, between research and opinion, and of course, between past and present."