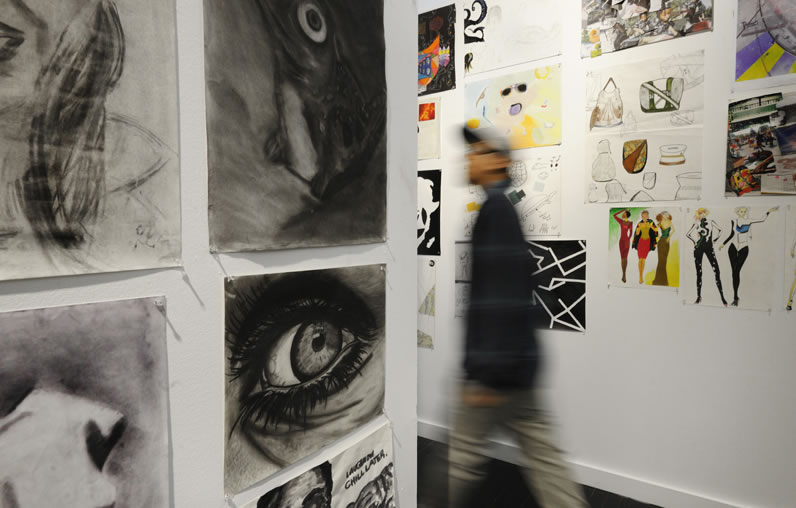 Pre-College Programs Shape Students Long After They Leave the Classroom
On weekdays, Wendy Zamorano is a high school senior, taking required courses in the arts, math, science, and social studies.
On Saturdays, she assumes the role of a college student, studying drawing, painting, photography, and graphic design at one of the world's leading art and design schools.
"Being at a university is an eye-opening experience," says Zamorano, 17, a student in the Parsons Scholars Program. "You get more freedom than you do in high school. The environment is more mature. I don't just take classes I like—I take ones that bring me out of my comfort zone. It's exciting to take something I maybe never would have learned otherwise."
Zamorano is one of the many New York City children and teenagers who have enrolled in or graduated from The New School's Pre-College and Preparatory Programs—after-school, summer, and weekend classes that shape students long after they leave the classroom. The programs span a range of subjects, from art and design at Parsons Pre-College Programs, to music at Mannes Prep, to writing at Eugene Lang College, and film studies, acting, and contemporary music at the summer intensives.
"Through The New School's Pre-College and Preparatory Programs, youth can access Parsons and design education to try it out and see if it's right for their future," says Anne Gaines, dean of the school of Art, Media, and Technology at Parsons. "They may uncover a new passion that they want to pursue as a career."
Zamorano is a student in the Parsons Scholars Program—a free multi-year college preparatory program that enables students from New York City high schools to study art and design at the college level. She takes classes in a variety of art and design subjects with faculty members who are experts in their fields. This experience has given Zamorano, an aspiring fine arts educator, a head start on her career: By gaining exposure to a university environment, she will be able to transition more smoothly from high school to college, and by acquiring college-level art and design skills, Zamorano will improve her chances of gaining admission to top-tier universities. What's more, she's taken workshops with some of the biggest names in art and design—experiences that have given her the confidence to follow her dream.
"It's like an exclusive look into what is going on in their lives," she says. "The myth is that artists don't really go places or have successful careers, but when I meet these people, they totally upend that. It really motivates me."
Natalie Komissarova found similar inspiration in the summer art intensive Film, Art, Change: Making Movies to Make a Difference. As a student in the program, open to rising high school juniors and seniors, Komissarova learned 16mm filmmaking and mastered high-definition digital techniques and tools while immersing herself in the history and practice of movie making.
"It was an amazing program, with small class sizes, a rigorous curriculum, and an emphasis on documentary filmmaking and social issues," Komissarova says. "Throughout the course, I learned so much about film and the impact movies can have on the audience."
The course culminates in the creation of socially engaged short films, which are screened publicly at the end of the course. Komissarova's film, ‪Masks: Hidden in Plain Sight, created with her classmates Lionel Miele-Herndon, Julia Bender, and Victoria Garcia, focuses on public identities in New York City.
"Through interviews with people of different age groups and backgrounds, the film explores different types of public behavior in New York City, as well as the reasons behind common behavioral patterns," Komissarova says. "Masks touches upon themes like prejudice, anxiety, feigned apathy, and the role of mobile phones and electronics in public."
Komissarova and her peers were given wide latitude on the creative direction of their project. That freedom, and the time spent beyond the classroom walls, Komissarova says, is a big part of what made the intensive such an enriching experience.
"Working independently and flexibly demanded a certain amount of responsibility and taught us to collaborate effectively," she says. "I will cherish the experience for the rest of my life."
Those interested in enrolling in The New School's Pre-College and Preparatory Programs should take note of the following dates: January 30, start of Parsons Pre-College classes; February 13, Summer Programs Open House; and March 15, the priority deadline for summer intensives.