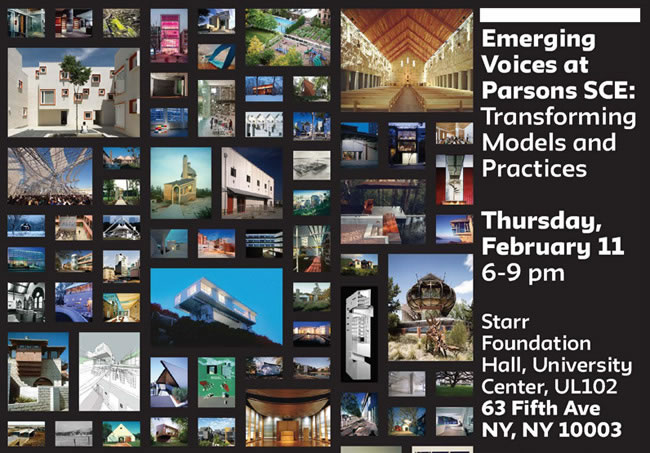 Parsons Celebrates 'Emerging Voices' in Design
Parsons School of Design's School of Constructed Environments leads the way in the teaching and practice of architecture, interior design, product design, industrial design and lighting design. It is also teeming with extraordinary talent.
So, it's no surprise that many of Parsons SCE alumni and faculty are among those featured in 30 Years of Emerging Voices: Idea, Form, Resonance, a collection of design projects and practices from 250 of the most innovative North American design firms of the past three decades.
Parsons SCE and The Architectural League of New York will celebrate Parsons alumni and faculty members featured in the book at Emerging Voices at Parsons SCE: Transforming Models and Practices on Thursday, February 11, 2016, 6-9 p.m. at The New University Center's Starr Foundation Hall, UL102. Copies of the book will be available for purchase at a discount.
To RSVP to Emerging Voices at Parsons SCE, visit the event website.
Following an introduction by Anne Rieselbach, program director at The Architectural League, the event will feature a Pecha Kucha-style talk with Parsons SCE faculty and alumni, as well as a panel conversation on emerging disciplinary and hybrid models of practice with recent Parsons SCE graduates and current students, moderated by Alan Brake, U.S. Editor at Dezeen.
Current and former Parsons SCE faculty appearing at the event are Ada Tolla, Lyn Rice, Andrew Bernheimer, Stella Betts, Yolande Daniels, Mark Rakatansky, John Hartmann, Craig Konyk, Hayes Slade, Ali Tayar, Mark Tsurumaki, and Claire Weisz. Current Parsons SCE students and alumni appearing are Jacinda Ross, Parker Lee, Tara Mrowka, Raymond Bourraine, Brandon Pietras, Yuliya Savelyeva, Caleb Sillars, and Ariane Elefterin.