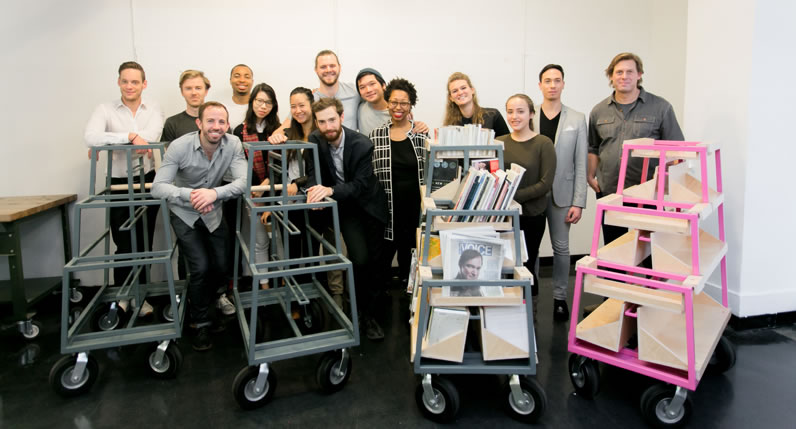 Parsons-Designed Book Carts: A Mobile Library for Incarcerated Individuals
For incarcerated individuals, there are few windows to the outside world. However, there is one way to transcend, mentally and spiritually, the concrete walls in which they are housed: books.
Books—from self-help, how-to, and body-building manuals to texts on history, sports, music, art, health, and religion—are a valued commodity in carceral spaces. As such, they need to be highly accessible both physically and in content and interest, and delivered without delays.
Leave it to students at Parsons School of Design to design a way of getting books into the hands of those that need them.
Recently students at Parsons, in partnership with the New York Public Library's (NYPL) Correctional Services Program, designed and fabricated four book carts to be used in Rikers Island and the Manhattan Detention Complex. The carts, which were delivered to the facilities last week, embody Parsons' dedication to design thinking and designing for social good.
"Something as simple as a piece of furniture—in this case, a book cart—can positively impact the lives of incarcerated individuals," said Joel Stoehr, assistant professor of modeling technology at Parsons and the faculty member who led the project. "A book cart doesn't just hold books: it provides an entry point to a piece of literature—a means through which incarcerated individuals can travel, if only in the mind's eye, beyond their present situation."
NYPL officials praised the students for their hard work and ingenuity.
"This project was embraced with enthusiasm by the New School team and delivered with more skill, dedication, and love than we could have possibly imagined," said Sarah Ball, supervising librarian at NYPL. "We're excited to introduce these much-needed, much-improved book carts to our Correctional Services Program."
The project was initiated last year by NYPL, which reached out to Parsons with what students and faculty saw as a "design and build challenge." Working closely with NYPL officials, 13 graduate and undergraduate architecture, product design, interior design, design studies, interdisciplinary science, and lighting design students spent the fall 2015 semester developing, testing, and revising original designs that addressed the needs of the client-users. What they came up with, said Misha Volf, a Parsons student who participated in the project, is a product that "balances utility and aesthetics."
Built around a powder-coated and tapered steel frame, the cart features a cascading system of maple plywood shelves that allow for easy browsing (users do not have to bend down to see the titles on the bottom shelf) and eight-inch casters that allow the assembly to roll with little effort (thresholds throughout prison corridors can be overcome easily).
"On the one hand, it's a highly functional rolling case for books; on the other, it's an approachable and aesthetically pleasing piece of furniture that fits seamlessly into its environment," Volf said.
While NYPL gained four sleek new book carts, Parsons students benefited from firsthand research and design experience. More important, students used design thinking to address a real-world need—in this case, the crucial task of making books accessible to incarcerated individuals.