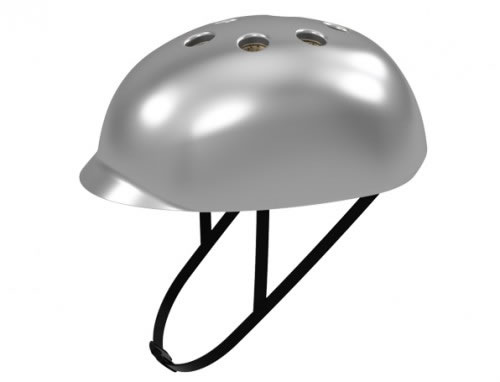 Parsons Faculty Member Barent Roth Wins Product Design Challenge for BikeShare Helmet
Bikeshare programs are expanding all over the country as urban residents seek effective alternative to cars and traditional modes of public transit.
But these programs are often lack a crucial component to safe cycling: helmets.
Barent Roth, a faculty member in Parsons School of Design's BFA Product Design and MFA Industrial Design programs, is helping to meet that need with the The BikeShare Helmet, a sustainably designed product intended to accompany bike share memberships.
Roth recently won the award for "Best Professional Project" in the 2016 Cradle to Cradle Products Innovation Institute and Autodesk's Product Design Challenge, a competition that asked emerging designers "to develop new solutions for improving our environment through sustainable design."
A designer and professor dedicated to creating and teaching the importance of sustainable products, practices, and services, Roth designed BikeShare Helmet using a recycled aluminum foam shell and a sustainably grown cork liner to provide maximum protection with minimal bulk and weight. He incorporated mechanical flanges into the sides of the cork liner so the two layers could "snap" into place, so no glue is necessary to secure the cork to the aluminum shell.
"I envision a time when sustainable design thinking is so completely integrated into the process that it does not even require to be defined as such, it just is," Roth, a faculty member in the BFA Integrated Design Program, told Core 77. "With 80 percent of a product's environmental impacts being determined in the design phase, it is imperative that ecological solutions be woven into the design process of every object."