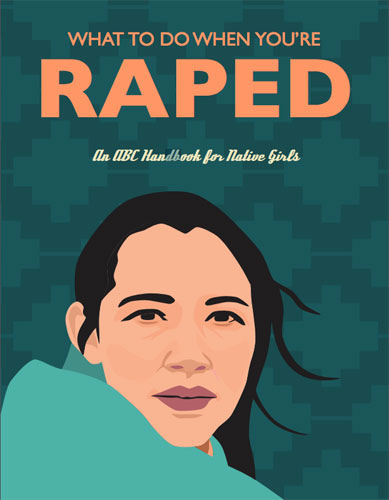 Parsons Student Lucy Bonner Designs Guide Book for Native Women Who Have Experienced Sexual Assault
Lucy Bonner, an MFA DT student, has always been a strong proponent for reproductive rights and justice.
So, when she learned about the women of the Native American Women's Health Education Resource Center (NAWHERC) and their work on behalf of Native women and girls, she wanted to do something to help them.
Putting her design skills to work, Bonner helped create "What To Do When You're Raped: An ABC Handbook for Native Girls", NAWHERC's recently published illustrated guide for Native women who been sexually assaulted. The guide answers questions about emergency contraception, testing for sexually transmitted diseases, and support services.
The handbook was created in response to the systematic sexual assault Native women experience. Native Americans are raped at a rate nearly double that of any other race annually and more than one in three Native American women will be raped in their lifetime.
"I was honored to be able to work with NAWHERC," Bonner says. "I learned so much about their situation on the reservations—loopholes in the Federal, tribal, and state jurisdiction that have fostered an environment of sexual violence against Native women. Unfortunately many people are not aware of the sexual violence plaguing Native women across the United States."
To read more about the book, visit NAWHERC's website.