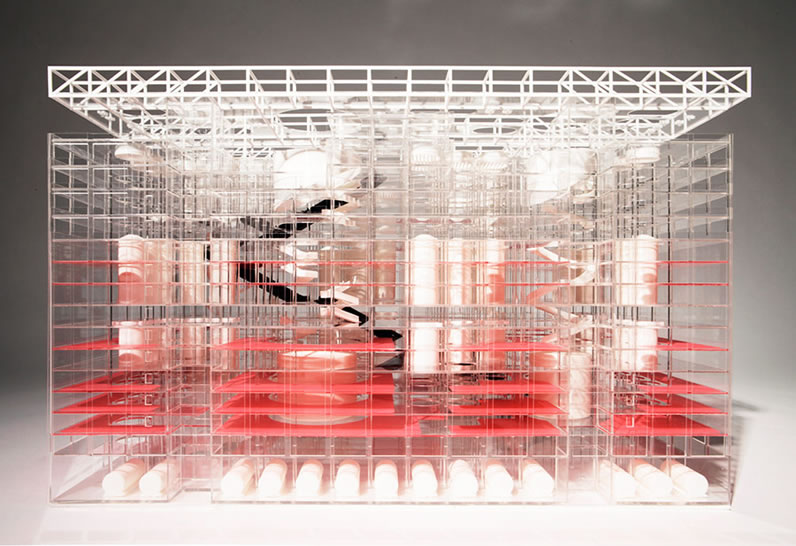 Parsons Students Win Arch News 'Best Student Project of 2015'
As the global economy migrates to the digital realm, urban infrastructure is undergoing a mass restructuring: buildings from the industrial era, once centers of activity, are becoming vacant and idle.
But, as a project by Kristen Garibaldi (MFA LD '15 + M.Arch '15) and Alex Stewart (M.Arch '15) demonstrates, these structures present an opportunity for a new type of production.
Their project, The Growery, proposes converting disused industrial buildings into urban farms for the cultivation of algae and cannabis—the former as a source biofuel, and the latter as a cash crop.
This revolutionary form of urban farming that is both climate friendly and sustainable was recently named by The Architect's Newspaper as the Best Student Project of 2015.
The project was selected by a jury including Amale Andraos, dean of Columbia Graduate School of Architecture, Planning, and Preservation; Nicholas Koster, project manager at Snøhetta; Chee Perlman, editor and curator of Chee Company; Ana Garcia Puyol, computational designer at Thornton Tomasetti; Ali Tayar; founder of Parallel Design Partnership, Terence Riley, founding partner at Keenan/Riley, and Mimi Zeiger, AN's west coast editor.
Jing Liu, a faculty member in the School of Constructed Environments at Parsons School of Design, led the studio in which The Growery was created.