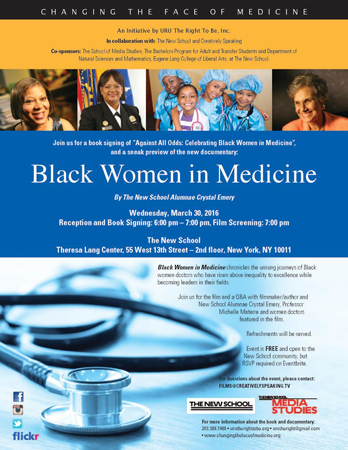 Changing The Face of Medicine
Crystal Emery, MA Media Studies '13, wants to help people see the Black women who work in medicine, and educate people about their notable achievements. Tracing their stories from inequality to excellence, Changing the Face of Medicine aims to be an agent of change, and inspire a new generation of doctors of all races and genders.
"I believe it's very fitting for us to include The New School as a location for our tour with my book "Against All Odds" and documentary film "Black Women in Medicine" because media is everything, and it is critical to the next generation of media studies graduates to practice diverse and inclusive storytelling in their work," said Emery.
Compromised of a documentary film, a book of biographical photo-essays, and a National Educational Initiative, Emery's work delivers the crucial message of these accomplished Black women doctors, and celebrates their history and status in the world of medicine.
The film will play at Arnhold Hall on Wednesday, March 30, at 7:00 p.m. Following the screening, there will be a panel discussion, with Dr. Doris Chang, Associate Professor of Psychology and Director of Graduate Studies at NSSR, and Dr. Aletha Maybank, Associate Commissioner, NYC Department of Health and Mental Hygiene.