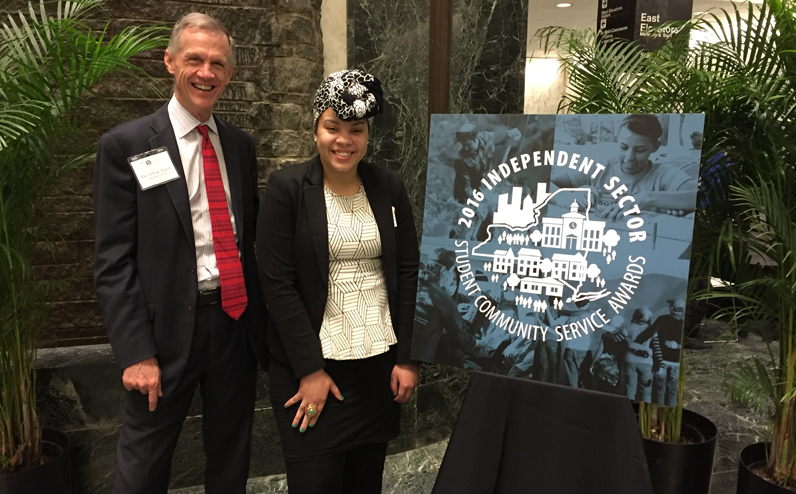 Eugene Lang Student Wins Community Service Award
Sade Swift, Urban Studies '17, has worked to confront social justice issues, including gender inequality, the portrayal of women in the media, gun violence, and police brutality.
This year, Swift's work came to the attention of the Commission on Independent Colleges and Universities, which presented her and nine other students with the Independent Sector Student Community Service Award, as well as a $500 scholarship. The award honors outstanding Independent Sector TAP students for their leadership in community service throughout New York State, and serves to highlight the contributions that independent higher education students make to strengthen the community and state.
On March 7, Swift joined New School President David Van Zandt at an award ceremony in Albany, New York, to receive the award.
"Being selected as a recipient of a 2016 Independent Sector Student Community Service Award and H.D. Paley Scholarship is very humbling and reminded me that as an Afro-Latina, I have a long way to go before justice is served to my people," Swift says. "I want to recognize all the women of color that came before me to make this possible. La lucha sigue, pero si se puede!"
Active in the community, Swift works with Sadie Nash Leadership Project, a program designed to promote leadership and activism among young women, and helped found the youth contingent to Justice League NYC, where she fights for justice for people of color. Additionally, she is the founder of the New School chapter of Generation Citizen, a group that promotes and teaches young people how to be effective citizens, and received the Gural Scholars Scholarship from the New School, which focuses on social justice work.