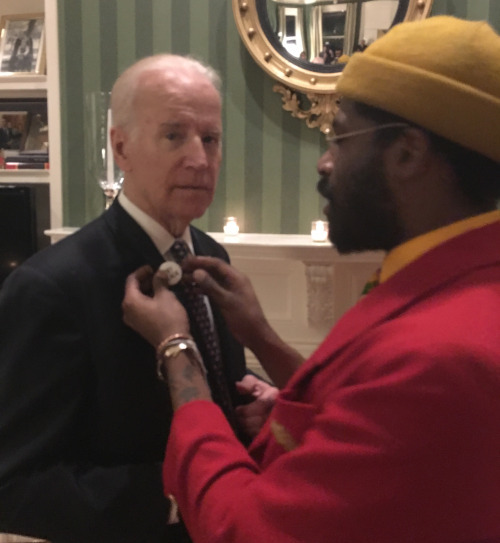 Lang Alum André D. Singleton Meets Joe Biden, Makes 'Brooklyn's 100 Most Influential People'
Joe Biden, meet The Very Black Project.
Recently, André D. Singleton, Lang '11, brought The Very Black Project—a t-shirt company and humanitarian initiative that promotes empowerment and community building through wearable expression—to the the vice president's Naval Observatory official residence for a celebration of Black History Month.
"It was truly an amazing and beyond affirming experience for me and Justin," says Singleton, who co-founded The Very Black Project with photographer Justin Fulton. "This is a love- and respect-project that really is birthed in our personal conversations with each other."
It was a proud moment for Singleton when Biden requested that he fasten a "Very Black Project" pin to his jacket lapel.
But that's not all Singleton has to be proud of. Brooklyn Magazine named André one of Brooklyn's 100 Most Influential People in Brooklyn Culture.
"The celebration of being unapologetically black and proud is at the core of The Very Black Project, a social activism group (and T-shirt company!) headed up by Singleton and co-founder Justin Fulton," the Magazine writes. "The duo's pro-black initiative promotes self-love by reclaiming black culture, empowering a disenfranchised community, and starting a dialogue as to what exactly 'blackness' means."