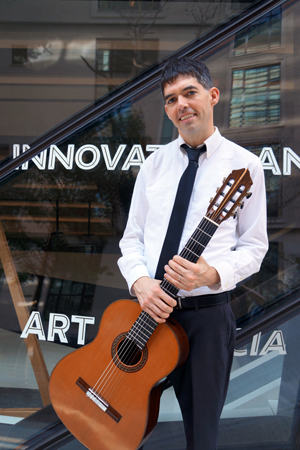 Mannes Alumnus Makes His Mark with a Music School
In order to be an effective teacher, you need to be an active musician, according to Michael Gilsinan. His professional emphasis is now on running the Fort Lee School of Music, but he still makes time to perform after receiving his his BA in 2013 and MA in 2014 in Classical Guitar Performance from Mannes School of Music.
Gilsinan started the Fort Lee School of Music in New Jersey in 2010 while earning his BA. Studying under Michael Newman, Gilsinan wanted to start his music school while he was still studying, so that by the time he graduated, everything would be fully functional and he could hit the ground running.
"I come from a family of entrepreneurs, so I always thought I would start my own business. I worked in my father's repair shop before I started at Mannes, and I find myself applying a lot of what I learned from the shop with my school now," says Gilsinan.
Numerous alumni from Mannes offer lessons in voice, piano, guitar, violin, and other instruments at the school. Encouraging collaberation among young musicians and emphasizing the fundamentals of music, Gilsinan continues to practice the lessons he learned at Mannes while honing his own approach.
"When I started the school, I had to use the resources available to me. A lot of friends from Mannes helped out, and both Richard Kessler and Michael Newman offered lots of guidance."
"When Mike arrived at Mannes for his undergraduate guitar studies, he immediately embraced the multicultural, entrepreneurial spirit that has always defined Mannes," says Michael Newman. "As a volunteer for the international New York Guitar Seminar at Mannes, Mike convinced us we needed a social media director and web master. And when Mike told me of his vision for a "Fort Lee School of Music" in his home town–with Mannes students and alumni as teachers and staff, of course–we knew it would be the resounding success it has quickly become."
Gilsinan's wife, Gigi, whom he met while she was studying for an MS in Urban Policy at Milano, designed the expansion of his school. The school has seven teaching rooms, a concert space, and in addition to private lessons, students participate in master classes, workshops, group lessons, and perform in recitals.
"I found that there was a creative vacancy in Fort Lee, which is why I started the music school here. We have the feel of a grassroots effort, and I think a strong music school is vital to the health of a community," says Gilsinan.
According to Gilsinan, the community and parents are active in giving feedback, which helps the school define its goals and objectives. One request was for a chamber music program, which now has plans to expand into a full orchestra this summer.
As a performer, Gilsinan modernizes ancient songs and styles, mixing multinational instruments with guitar. He has been invited to perform at the John F. Kennedy Center for the Performing Arts in Washington, D.C. and the Sydney Opera House in Sydney, Australia.
"Mannes and the New School helped me diversify my skill set. When I perform, it's for fun, but running my school is a full-time commitment, and I'm already looking forward to what we can do next."