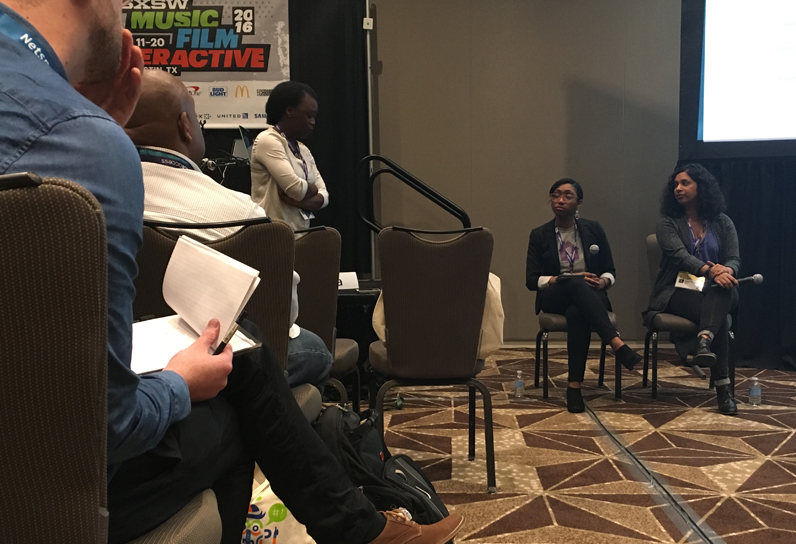 The New School + SXSW 2016: Deepthi Welaratna, Media Studies '10, Connects Youth to Tech World
From Silicon Valley to Silicon Alley, a new class of entrepreneurs has emerged from a national tech boom. But low-income areas in the Bronx — just a subway ride from Manhattan — are being left behind. Hampered by financial constraints and lack of educational opportunity, many young people, despite their passion and ingenuity, lack access to the tech world.
Deepthi Welaratna, Media Studies '10, is working to confront this issue. Collaborating with nonprofit organization The Knowledge House, Welaratna used design thinking and data science to create TechTank, "a local innovation pipeline and smart incubator program that connects young people to employers and investors."
"Kids are so excited about tech because it's very much a part of their everyday world; they have opinions, they think about it a lot," Welaratna said during a panel, Hustler to Entrepreneur: Tech and Disconnected Youth, at #SXSW Interactive Friday. "It's something they can see themselves growing into. They just need the right tools."
Through TechTank, Welaratna and The Knowledge House have employed TalentMatch, a survey created by Welaratna's Thicket Labs that uses 144 factors across 12 areas to make matches between mentors (leaders in the tech industry) and mentees (aspiring tech workers). Though still in the pilot phase, TechTank has already yielded demonstrable results: of the eight students who entered the pilot phase of the program, four are pursuing careers in the tech industry.
As Welaratna explained, TechTank is an ever-evolving, iterative, and collaborative process rooted in the same design thinking that drives The New School's educational approach.
"It's always a process of discovery," Welaratna says. "Having uncertainty along the way is a common challenge. We're still figuring out how best to do this process. We have to trust that it's going to lead to an impactful solution."
Currently, many youth are dropping out of education and employment systems and turning to "the hustle" — creative, quick-turnaround ways to make money — to get by. However, through TechTank, Welaratna is putting the tech boom within reach for aspiring technologists.