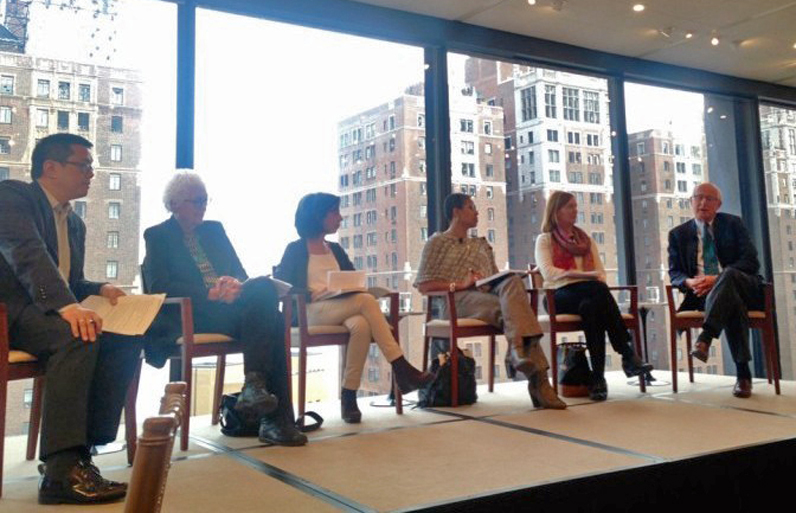 SGIPA Leads Discussion on 'Gender, Assets, and Just Cities'
As the world's population continues its rapid pace of urbanization, gender disparities in the wealth and employment persist.
A panel of experts called for more action, and offered solutions, to this pressing social issue during the event, Gender, Assets and Just Cities: Transformative Pathways to Habitat III, last week.
Hosted by the Ford Foundation and the Julien J. Studley Graduate Program in International Affairs, the panel members discussed urgent questions such as how women will be affected by the widening wealth gap and how gender equality contributes to inclusive and sustainable cities.
Caroline Moser, editor of the book Gender, Asset Accumulation and Just Cities, asserted that to improve women's rights, key actors must unite agendas around urbanization and gender equality. However, without social capital and collective action, she said, gender inequality will remain an issue.
Shahra Razavi of UN Women, the United Nations organization dedicated to gender equality and the empowerment of women, noted that reforms to property and inheritance laws in recent decades have improved women's access to land and housing. However, she warned, the wealth gap threatens to erase any gain made through those reforms, leaving poor and middle class women around the world worse off economically than they were before.
Michael Cohen, professor in the SGPIA, urged participants to make urban issues "political" again, and work across different fields to solve the urgent social issue of gender inequality.
The panel discussion is one of many in the run up to the Third United Nations Conference on Housing and Sustainable Development (Habitat III) to be held in Ecuador in October.
For more information on the issue discussed at the event, visit The Global Urban Futures Project.