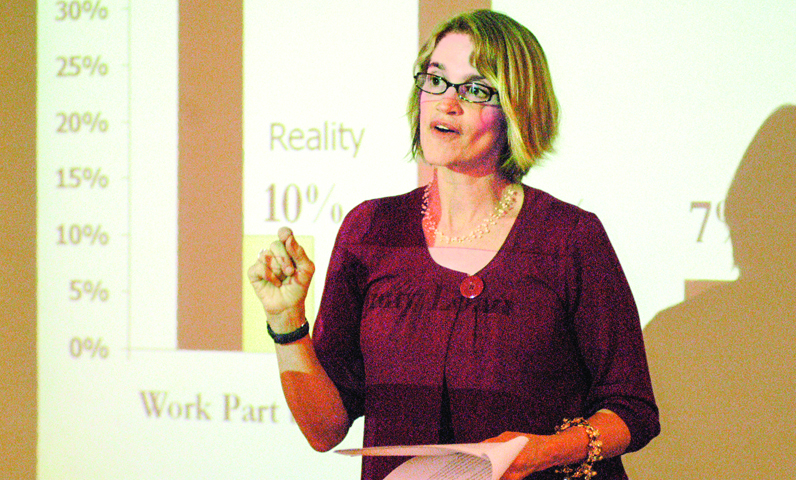 Teresa Ghilarducci's Revolutionary Retirement Plan
Americans do not have enough saved for retirement. In 2013, 28 percent of families had no retirement savings at all. Among those who do have some savings in their retirement accounts, the median balance for families nearing retirement is only $12,000.
In addition, the number of employers offering their workers retirement savings plans at work is declining. Between 1999 and 2011, the availability of employer-sponsored retirement plans in the United States fell from 61 percent to 53 percent. When employers do offer plans, they are more likely to be defined contribution plans in the form of a 401(k) than a traditional pension. These plans come with high risk, high fees, and large penalties for early withdrawals, all of which erode workers' total savings.
These savings and coverage rates foretell a coming retirement crisis in the United States. Without enough retirement income, 16 million retirees will live in poverty or at near-poverty levels by 2022.
To prevent seniors from experiencing deprivation in their golden years, Teresa Ghilarducci, director of the Schwartz Center for Economic Policy Analysis and professor of economics at The New School for Social Research, has proposed a simple yet radical solution. The Retirement Savings Plan (RSP) she co-authored with Blackstone President Tony James proposes to create Guaranteed Retirement Accounts (GRAs). The proposal would require employees and employers to contribute 3 percent of a worker's salary to an individually owned GRA. Employees and employers would contribute 1.5 percent each, and savings would be managed by professional portfolio managers. By prohibiting early withdrawals, GRAs would ensure that savings could be invested in long-term investments, which earn higher rates of return than short-term 401(k) investments.
Under a 401(k) plan, retirement savings are paid out in a lump sum, and retirees must determine how much money they should be using each year, leaving people vulnerable to outliving their savings. Under GRAs, when workers retire, their savings are paid out in an annuity, a guaranteed monthly payment for the rest of their lives, so that they don't need to worry about budgeting correctly or outliving their retirement funds.
The plan is deficit neutral and will not cost the government additional funds. Rather, the plan calls for redirecting current tax deductions to better support retirement savings for those who need it most.
"Our 'do-it-yourself' retirement system is a failed experiment that has left Americans at risk of experiencing downward mobility in their golden years," says Ghilarducci. "The GRA proposal is a no-cost solution to ensure that millions of Americans can retire after a lifetime of work without the risk of falling into poverty."
Other nations have adopted similar plans, including Britain and Australia. The plans have seen varying measure of success, and time will tell if this can sway public opinion here in the United States. Ghilarducci's plan is a solution that can prevent the impending crisis.