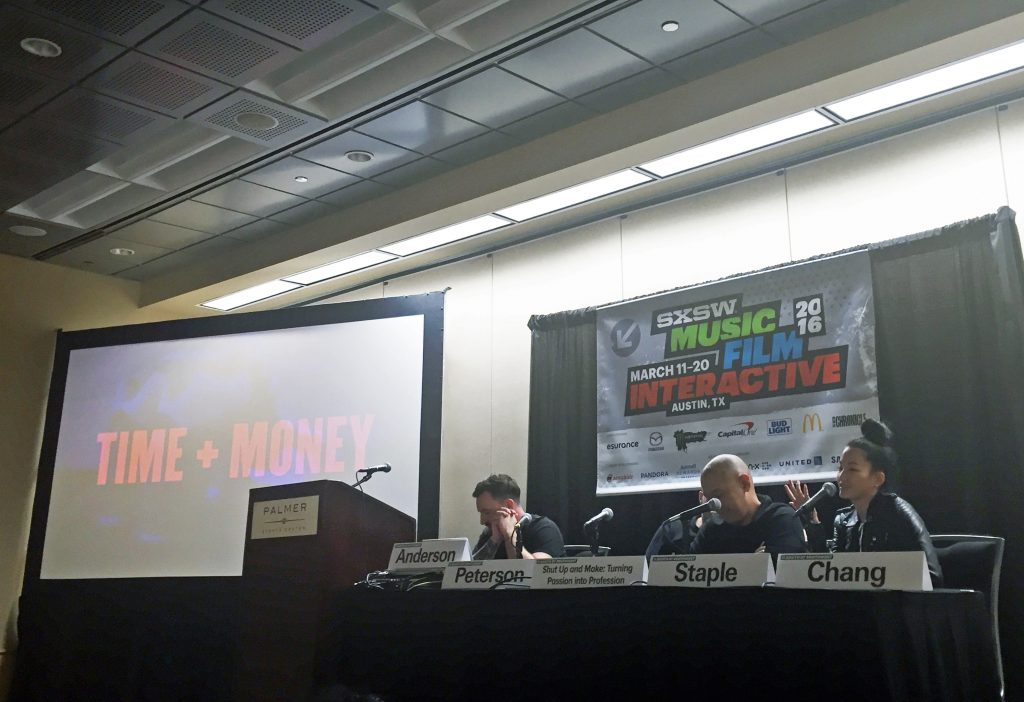 The New School + #SXSW: Sophia Chang, Illustration '11, and Jeff Staple Talk Passion and Hustle
Long before he built a fashion empire with his eponymous streetwear brand, Jeff Staple tried—and failed—to barge his way into a Las Vegas menswear convention. Repeatedly kicked out by security, and unable to display his work in the main room of the venue, he set up shop in another heavily trafficked area of the convention: the bathroom.
"At some point, everyone has to take a piss or shit," Staple, the founder of Staple Pigeon clothing, recalled. "I got so many orders showing people my stuff in the bathroom. Standing in the urinal for four days—that's hustle."
Staple, who attended Parsons School of Design, and Sophia Chang, BFA Illustration '10, shared inspiring stories of turning their creative aspirations into full-time careers at the #SXSW panel, Shut Up and Make: Turning Passion into Profession, on Saturday.
To turn your passion into a profession, Staple and Chang emphasized the opportunity-making power of hard work. Growing up, Staple said he was "never the richest, best looking, or most creative person."
"But I could outwork anyone, hands down," he said. "I won't sleep until I get the job done. I'm relentless. I used to be able to fit my whole fashion collection into my backpack."
Growing up in a traditional household in Queens, N.Y., Chang said people "always people tried to cap me." Attending Parsons gave her the opportunity to break out.
"I was always told I had to be a certain way, to become a doctor or a lawyer, to be quiet and passive—the way a typical Asian female should be," said Chang, a storyteller working in printmaking, apparel, websites, graphic design, illustration, event planning, curation and more. "I went against all that. I studied illustration at Parsons, as well as fashion design, branding, logo design, and magazine layout. I started a clothing brand, built a website, and by the time I graduated in 2010, I had a broad skill set under belt."
Chang later founded her own creative agency, ESYMAI, through which she has worked with Parsons alum and world renown fashion designer Marc Jabos, the NBA, Samsung, Anthony Bourdain, Urban Outfitters, and Nike. She also started her own publication, UNDO-Ordinary.
On the path to success, Staple and Chang confronted new challenges, such as demanding and receiving due compensation from clients.
"For creatives, it's very difficult to put a price on yourself," Staple said. "It's tough to say, 'I'm done and the project is good, now pay me the money I deserve.'"
Staple and Chang advised young creatives to know their worth and not to sell themselves short.
Their most important piece of advice was to never lose your passion and never stop making. When Staple began his career 20 years ago, there were only a handful of stores worldwide that sold a genre of clothes often referred to as streetwear. Now, there are hundreds, and Staple is sitting at the top of the heap.
Said Staple: "20 years in, I still get goosebumps when I see someone wearing Staple. This dude I don't know is giving me money for my designs? It still amazes me."