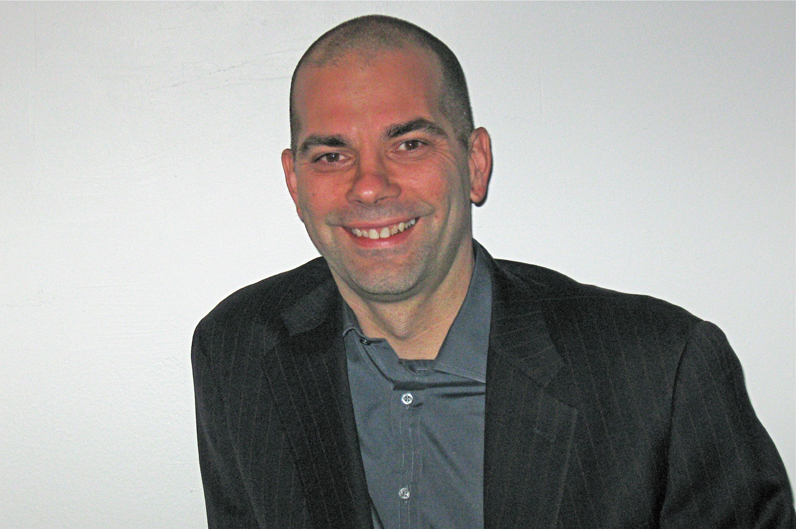 Bob McKinnon, Media Studies Entrepreneur-in-Residence, Uses Media for Social Good
When Bob McKinnon (Media Studies '15) and Fast Co.Exist asked Americans which 15-year-old child is more likely to be successful—one who has had a healthy upbringing but lacks ambition or one who has a strong work ethic but grew up in a violent home or neighborhood—they overwhelmingly chose the latter.
But consider this: If a child is exposed to early trauma—for example, if she knows someone who was shot on her block—how is she supposed to focus in school? How might this experience affect her future success?
The poll, McKinnon says, points to a robust—and potentially misplaced—faith in the American Dream. While hard work and dedication can, and often do, equal success, they're not the only things that matter: your neighborhood, upbringing, and social class are important, too.
So why do so many Americans cling to the promise of social mobility? Is it the tendency to universalize our experiences ("If I can do it, so can you"), or a failure to step into someone else's shoes? McKinnon has a different theory: that we don't take a hard enough look at our own story—where we come from and how we made it.
"In my life, I have struggled with questions," McKinnon says. "How did I get here? Why did the American Dream work so well for me but not for others? How did it become possible for me to move from the bottom towards the top, when 94 percent of the time that doesn't happen? Was it hard work or dumb luck?"
McKinnon is putting these questions to readers in Moving Up: The Truth About Getting Ahead in America, his interactive media project designed to ignite conversation about what it really takes to move up in America. Moving Up is a product of McKinnon's strong belief in the power of media to make a positive difference in the lives of ordinary people.
"The promise of media is to inform and enlighten, but if we're putting stuff out there to win a new cycle instead of putting stuff out that makes a difference, we're not following through on that promise," says McKinnon, the founder and president of GALEWiLL Design, a company that designs social change through programming, communications, advocacy, and action.
Over the last two semesters, the New School alum has shared his passion for social change–driven media with the university community. As the Media Studies entrepreneur- in-residence for 2015–2016, McKinnon has served as a roving media guru, dropping in and out of School of Media classes, where he works with students and gives guest lectures, and strategic discussions on university curriculum and pedagogical methods.
This semester, he launched a pop-up class exploring new and innovative ways of using media for social good. Incorporating elements of design, the social sciences, and creative problem solving, the class invites students to choose a story they care about and then design and implement a media mechanism that can be used to address that issue (e.g., a blog, social media campaign, or video news piece). McKinnon doesn't base his grades on Web traffic.
"The goal isn't to show me how you got 1,000 clicks or shares—that would be great, but it's not the most important thing," he says. "The important thing is to show me how what you made helped someone or changed someone's mind or made them look at an issue in a different way. There is a benefit to firing up the base, but I'm more interested in how you engage people in a civil discourse that might actually move the needle."
Currently just a few students are participating in the course. However, McKinnon hopes that down the road it "evolves into a cross-disciplinary collaboration across all the university's schools."
It is the same focus on the intersection of social good and the social sciences that informs Moving Up. The series, which appears in Fast Co.Exist every week, challenges readers to question their belief in the idea of social mobility—specifically, by asking them "to reflect on their own journey that contributed to their success," McKinnon says.
"It's a new way to engage consumers that isn't just putting out information—it's encouraging them to think critically and create," he continues. "We know so much of what's contributed to who we are as people, but we're not reflective of our own journey. This is a way to get people to reflect on their own experiences and ultimately to build empathy." People can also sign up to receive emails each Monday to receive thought-provoking questions intended to inform and inspire.
McKinnon feels right at home at The New School, an institution that shares many of his passions: critical thinking, challenging the status quo, and designing for social good. He feels there's no better place (a leading progressive university) and no better time (barriers to the spread of information have never been more porous) to reconsider the role media can play in our everyday lives.
"The New School has always been a collection of schools and scholars that really understand the nature of social justice," he says. "To marry that understanding and commitment to this unique opportunity to leverage the power media is a huge opportunity."