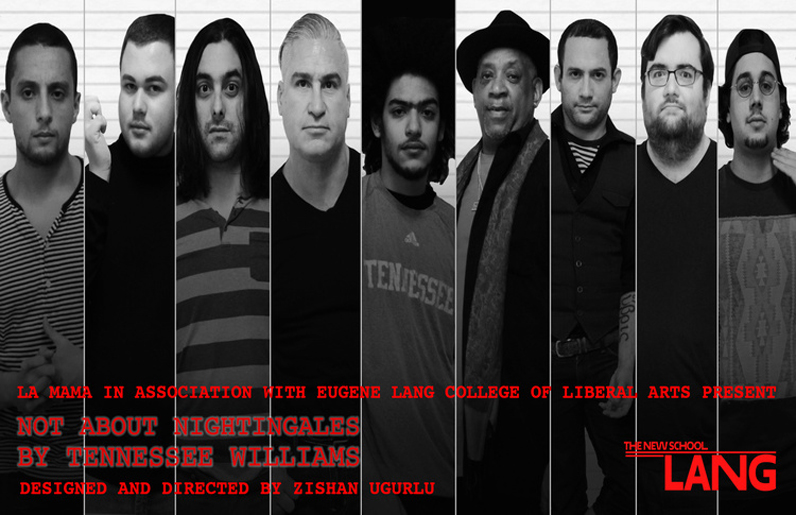 Lang Students Perform Tennessee Williams' Not About Nightingales
Tennessee Williams' Not About Nightingales centers on a group of inmates on a hunger strike in prison, as well as a love story between an inmate and a secretary. Though it was written in 1938, the issues explored in the play—namely, the moral implications of mass incarceration—still resonate today.
Students at Eugene Lang College bring the play to life in a performance of Not About Nightingales on Thursday, April 21 through Sunday, April 24 at La MaMa Ellen Stewart Theater, 66 East 4th Street. Tickets are free for New School students, and $10 for guests.
Directed and designed by Zishan Ugurlu, Associate Professor of Theater at Eugene Lang, the play will feature actors from Lang, as well as formerly incarcerated people, and is a collaboration between La Mama Theater and Lang. Originally written in the 1930s, the play wasn't discovered until the late 1990s when Vanessa Redgrave made it her personal mission to track it down. It opened at the Circle in the Square Theatre on February 25, 1999 and was nominated for six Tony awards, including best play.
The issues presented in the play are still relevant today. The largest jailer in the world, the U.S. imprisons 2,220,300 adults in U.S. federal and state prisons, and county jails. This is about 0.91 percent of adults (1 in 110) in the U.S. resident population. Additionally, 4,751,400 adults (1 in 51) are on probation or on parole. Today a total of 6,899,000 adults are under correctional supervision (probation, parole, jail, or prison.)