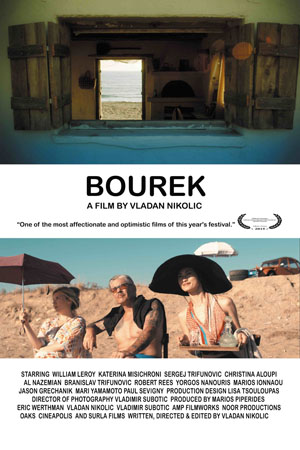 Media Studies Faculty Vladan Nikolic Releases 'Bourek' Film
From its government-debt debacle to a recent wave of anti-refugee xenophobia, Greece has been a country in a state of constant crisis.
Can you blame the characters of Bourek, the new film from New School faculty member Vladan Nikolic, for trying to escape the chaos?
The film, which opens at Cinema Village, 22 East 12th St., on Friday, April 29, "is a humanistic comedy about an extravagant international cast of characters who meet, fight, and fall in love while hiding from the end of the worlds and other calamities on the tiny Greek island of Khronos," according to IMBD. Each one of them discovers something or someone that gives new meaning to their lives, helped in no small part by the food they share, especially the Mediterranean pastry Bourek. The film stars a distinguished international cast from the United States, England, Greece, Serbia, Cyprus, Iran and Japan.
Bourek marks Nikolic's fifth film. Previously, he has released Burn (2001), Love (2005), Zenith (2010) and Allure (2014). Nickolic is the Director of Undergraduate Programs and Associate Professor of Media Studies.
To purchase tickets, visit the Cinema Village website.