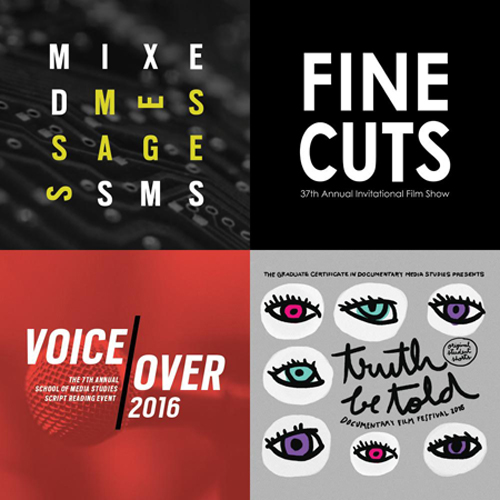 Media Studies Sends 'Mixed Messages' in Spring Showcases of Student Work
The School of Media Studies—a school dedicated to studying the social impact of mass communication and responding to an ever-evolving media landscape—takes over event spaces and movie screens across The New School with a series of events showcasing student work.
The events kick off with Mixed Messages: Media Studies 20th Annual Graduate Media Showcase on Friday, April 29, 7:00-10:00 p.m. at the Media Studies Loft, 79 5th Ave., 16th Floor. Mixed Messages is an annual exhibition of juror-selected creative work—installations, interactive experiences, web-based work, apps, and works on paper—by graduate students in Media Studies.
Next up is Voice-Over: The 7th Annual School Of Media Studies Script Reading Event on Thursday, May 5, 7:00-10:00 p.m. at Wollman Hall, 65 West 11th St., Room B500. At Voice-Over, student-penned screenplays are brought to cinematic life through a live reading by student actors complete with audio and video elements.
The events continue with FINE CUTS: 37th Annual Invitational Film Show on Friday, May 13, 7:00-10:00 p.m. at The Auditorium, Alvin Johnson/J.M. Kaplan Hall, 66 West 12th St. FINE CUTS is a screening of short films and video works produced by students as part of their coursework. The screening is followed by a faculty-led Q&A session with the student filmmakers. An award is given at the end of the screening for a film chosen by the audience.
The events wrap up with Media Studies 10th Annual Truth Be Told Documentary Festival, held Tuesday through Thursday, May 24-26, 7:00-10:00 p.m. at The Auditorium, Alvin Johnson/J.M. Kaplan Hall, 66 West 12th St. The festival, which is held over three evenings, features screenings of short films made by this year's students in The New School's graduate certificate program in Documentary Media Studies. Media Studies faculty member Deanna Kamiel will conduct Q&A sessions with the filmmakers following the screenings.