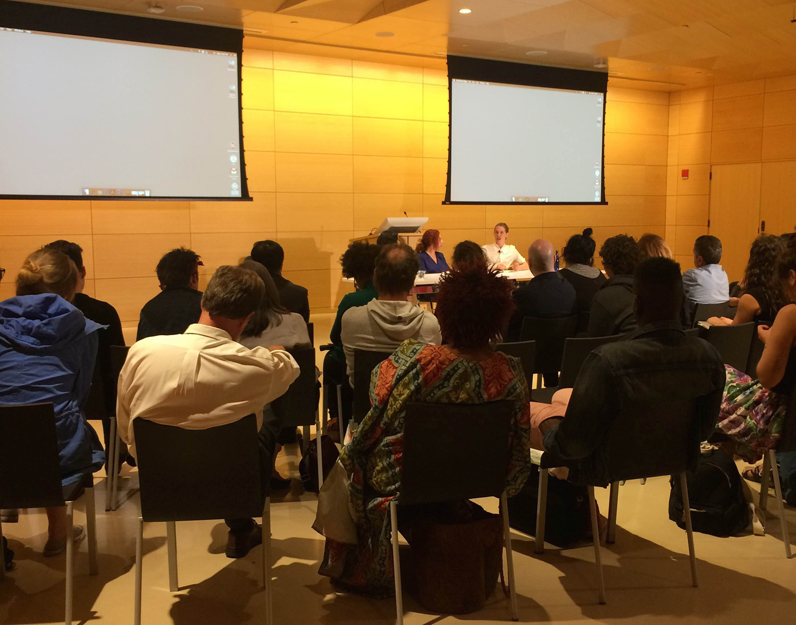 Students Share Work Across Disciplines at Dean's Honor Symposium
Presenting everything from rigorous academic writing and live poetry readings, to civic engagement projects and social justice work, students at Eugene Lang College shined at the first Dean's Honor Symposium in April.
"Our first Dean's Honor Symposium was a success, and showcased the unique learning opportunities available to Lang students," said Lang dean Stephanie Browner. "The student presentations provided a unique perspective on a range of current topics, and I look forward to continuing the conversation."
Participating students applied to present their work in the fall semester, and, once accepted, were grouped together by theme. The work, which illustrated the range of disciplines and inter-disciplinary offerings at Lang, explored critical histories and contemporary social issues. Social justice is at the core of a Lang education, which was reflected in all the presentations.
Projects included "Nowhere to Hide: Privacy in the 21st Century," which took a hard look at the Fourth Amendment, and how citizens can maintain their privacy in an increasingly digital world; and "Persisters: New Gender Narratives," which explored the role of women throughout history and significant contributions from women that have often gone unnoticed.