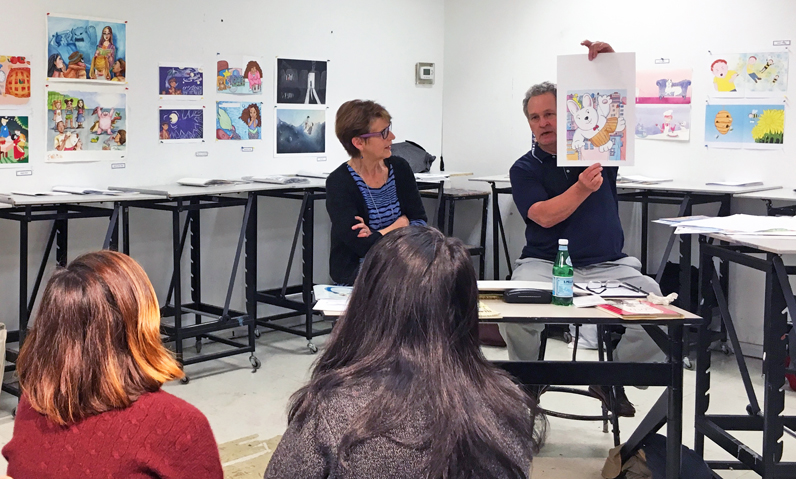 Illustration: Sketching New Visions for Creative Careers
Growing up, Sophia Chang, BFA Illustration '10, would carry a black-and-white Mead notebook with her wherever she went, filling its lined sheets with drawings of fashion models and cartoon characters.
She had no idea that one day, she would make a living doing just that—albeit by trading in her notebook for T-shirts, tote bags, sneakers, and posters sold by some of the world's biggest brands.
It was at Parsons School of Design that she found out that she could make her hobby a career.
"When you're a kid, you love drawing, you want to go to art school, but you have no idea how to turn that into a fully functioning business," says Chang, an illustrator and designer who has worked with NBA, Samsung, Anthony Bourdain, and Nike. "At Parsons, I learned about the commercial world of illustration and was given the skills and courage needed to actually make a living out of it."
It is that focus on transforming passions into professions—a goal achieved by cultivating each student's unique vision while preparing him or her to translate it into a wide range of traditional and emerging media—that drives the BFA Illustration program at Parsons.
"The BFA Illustration program enables students to cultivate a unique authorial voice and vision, to be expressed through traditional print media and emerging online formats," says Ben Katchor, associate professor of illustration and a professional illustrator known for his comic strip, Julius Knipl, Real Estate Photographer. "Students will carry that voice and vision throughout their careers."
Chang's voice and vision—linear drawings inspired by hip-hop, streetwear, and New York City, where she grew up—have landed her a string of high-profile gigs, from Anthony Bourdain's No Reservations and the Travel Channel to a sneaker collection for Puma and album illustrations for hip-hop artist Talib Kawli. Her list of 50-plus clients includes Urban Outfitters, Red Bull, and Proenza Schouler.
Chang credits the BFA Illustration program with "encouraging me to develop my own visual style."
"The teachers in the program guide you in your process, in your walk, and your journey and, with your peers, provide critique along the way," she says. "One of the most important things I learned in the program is that there is a market for everything, for each person's unique voice. Once you find and develop your voice, you can find a niche market where your work can live."
An important tool in helping students hone their voice and vision is exposing them to storytelling techniques, including images and text, across a wide range of forms: comics and graphic novels, animation, picture books for children and adults, editorial and advertising illustration, toy design, hand lettering, visual display, and surface design.
Signature classes—the narrative-based Picture Story Workshop, the highly interdisciplinary Visual Politics, and Beyond the Page, in which students create illustration solutions for nonprint media such as skateboards and furniture—speak to the holistic nature of BFA Illustration. Students further expand the context and depth of their education by working closely with faculty and taking courses in other departments at Parsons and The New School.
"Success in this wide-ranging field and in the BFA program," Katchor says, "requires curiosity, creative problem solving, and the ability to express ideas and emotions using the full spectrum of expressive possibilities, from image to text, across time and in three dimensions."
Like many of the students in BFA Illustration, Sam Shumway, Illustration '16, isn't just one kind of illustrator. Though he works primarily in pen-and-ink drawing and cartoons, he has recently delved into stop-motion animation.
"Everyone in the program has dipped their toes in all sorts of media, whether it be animation or building things or working with tactile forms," Shumway says. "I never thought I would do animation, but now I'm putting together a reel in hopes of landing a job in the field. Having such a well-rounded experience has helped develop my personal style and opened the door to new opportunities I would have never imagined."
Inside the classroom, students also benefit from visiting professionals, who share their knowledge and expertise and, on occasion, review student work. In a recent session of Patricia Cummings' Children's Book Illustration class, publisher Barbara Lalicki and illustrator Steve Henry advised students on the preparing their children's books for the marketplace.
"When professionals visit the class to talk about their work, it provides real-world insight into the current state of the children's book industry," Cummings says. "It also broadens students' understanding about the range of jobs and some of the underlying standards in the business. Most importantly, having their illustrations and picture book dummies reviewed by such widely experienced folks provides real guidance to my students."
Students further gain a foothold in the professional world through industry collaborations. As a student, Shumway worked with Nick Jr., designing Web content for the network's Parents section. Chang, meanwhile, had the opportunity to participate in Designing for Luxury Goods, an interdisciplinary program in which students from Parsons and Columbia Business School work collaboratively to develop concepts for some of the world's leading luxury goods companies (she and her peers created an e-commerce platform for Asalene, a high-end publishing house).
Students also participate in course-related projects and internships at companies and institutions such as The New York Public Library, The Drawing Center, Design Within Reach, Toon Books, The New York Times, Moleskine, Barnes & Noble, Tools For Living, and Brooklyn Industries. They network through professional organizations such as the publishers of American Illustration and the Society of Illustrators and attend events such as Comic Arts Brooklyn, MoCCA Fest, and New York Comics & Picture-story Symposium.
"By working in real-world settings, students are better prepared to succeed in their careers," Katchor says.
One of the most vital assets of the Illustration program is its distinguished group of instructors. Katchor is an accomplished illustrator, having created "picture-stories" for newspapers and magazines since 1978, including Julius Knipl, Real Estate Photographer, and contributed work to the Jewish Daily Forward, the New Yorker, Metropolis magazine, and many newspapers. Katchor has long since found his voice. Now he's helping his students find theirs.