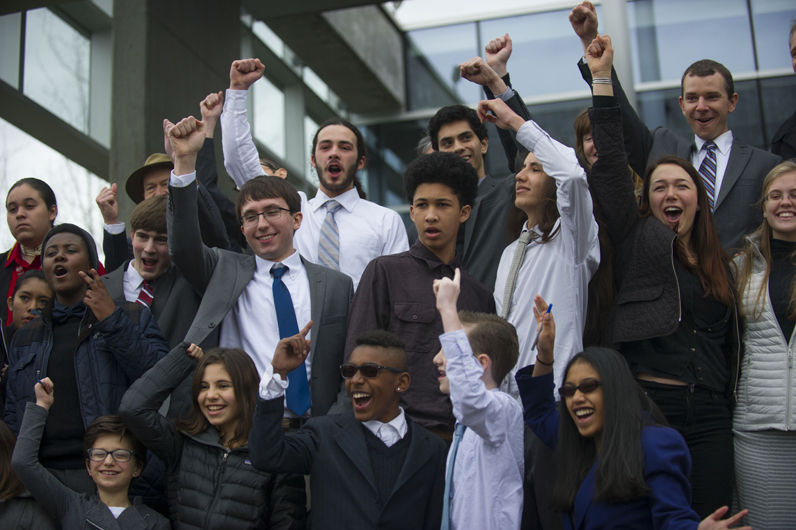 Teen Activist Who Spoke at The New School Wins Major Victory in Government Lawsuit on Climate Change
Late last year, teen climate activist Alex Loznak came to The New School to share the news that he and 20 other young people, ages eight to 19, had brought a lawsuit against the Federal Government and the fossil fuel industry for their failure to act on climate change.
Speaking at "Youth Engagement and Climate Change," an event hosted by The New School's Equity for Children, Loznak said that for more than 50 years, the government and the fossil fuel industry have continued to promote the burning of fossil fuels, even though they are fully aware that doing so produces carbon dioxide emissions that cause harmful climate change. It's an issue, he said, created by past and present generations that future generations would ultimately have to deal with.
"Youth have to propose the idea, youth have to say, 'I want my city, I want my government to do something about this serious issue," Loznak said. "Ultimately, the drivers of change are young people."
Now Loznak and his fellow plaintiffs—a group being represented by Our Children's Trust, one of Equity for Children's partners—have scored a major victory in their effort to pressure the government to create, in Loznak's words, a "science-based recovery plan that reduces carbon dioxide in our atmosphere." Earlier this month, a federal judge in Oregon ruled against an attempt by the U.S. government and the fossil fuel industry to dismiss the lawsuit.
Despite going up against a behemoth in the U.S. government, Loznak and the plaintiffs remain undaunted in their effort to pressure the government to take meaningful action on one of the most pressing issues of our time.
"The biggest thing that I've learned is that you can't be afraid to challenge people who are more powerful than you," Loznak said. "The government, the fossil fuel industry—they're scared of what this group of kids and teens are doing. And it would be easy to get scared going up that much money, that much power, that much influence, but we've taken the leap and I'd say we're winning."