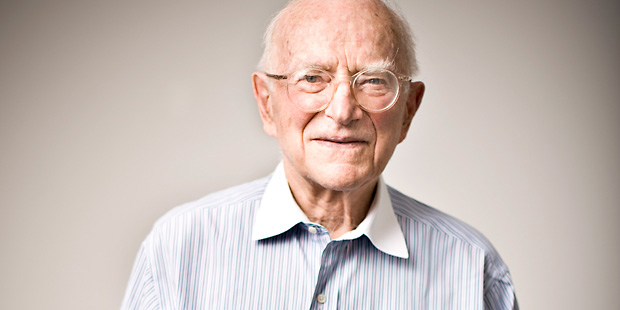 The New Schools Mourns The Passing of Seth Glickenhaus
Since his arrival on Wall Street in 1929, the same year of the stock market crash, Seth Glickenhaus carved out a reputation as a brilliant bond trader and money manager whose "long view," in the words of Bloomberg News, made him a huge success in the world of finance.
But Glickenhaus' impact wasn't confined to Wall Street: He also made a lasting impression on The New School, where he established the Seth Glickenhaus Fund for Student Fellowships (Glickenhaus Scholars) in 1989 at the Milano School of International Affairs, Management, and Urban Policy.
For nearly 30 years, the fellowship has supported students with outstanding academic talent who want to train for careers in public service and community development.
The New School community mourns the loss of Glickenhaus, who died last week at his home in the New Rochelle, N.Y. He was 102. The community also offers its condolences to his family: his wife, the former Sarah Brody, their children, Nancy and James; four grandchildren; and four great-grandchildren.
"We mourn the passing of Seth Glickenhaus, long time friend and generous supporter," said Mary Watson, executive dean at The New School. "The Glickenhaus Scholars program has advanced the careers of many of our Milano students, and his legacy is deeply appreciated in our community."