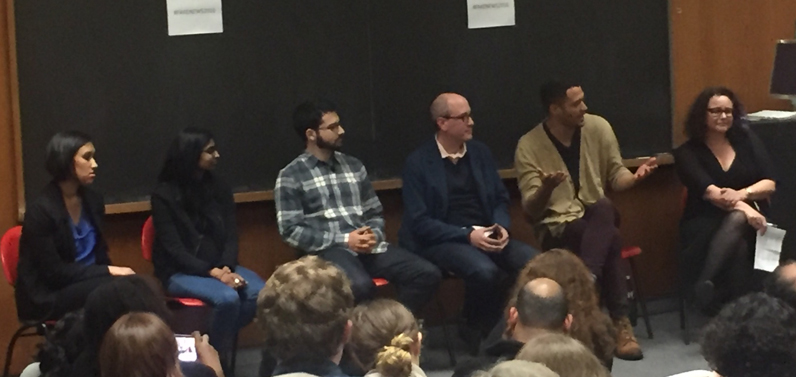 Fake News Writers Discuss How They Stay Truthful
Daniel Radosh had always wanted to report the news. But when it came time to decide where he could make the biggest impact, he didn't go to one of the traditional news networks—he went to The Daily Show.
"I didn't want to write for TV news, I wanted to write for The Daily Show," said Daniel Radosh, senior writer for The Daily Show with Trevor Noah. "Trevor always says that we're doing a comedy show about the news."
Radosh made his remarks at Fact Checking The Daily Show, a panel presented by the Journalism + Design program at Eugene Lang College. Moderated by Brooke Gladstone of WNYC's "On The Media," the event featured a discussion between writers Dan Amira of The Daily Show with Trevor Noah, Cord Jefferson, formerly of The Nightly Show with Larry Wilmore, and Naureen Khan and Sanya Dosani, both of Full Frontal with Samantha Bee.
The panelists touched on a range of topics, from humorous anecdotes about pitching unfunny stories, to the ability of "fake" news shows to deliver real news, and when it's "too soon" to use tragedies for comedic fodder.
"I enjoy presenting depressing things in a funny way," Khan said. "A lot of our segments have groan moments."
The members of the panel agreed that some stories are too horrific to immediately present as humorous, but that with time, they can be. Asked if it would be a victory for their fake news shows to be considered the most trusted source of news nationwide, everyone on the panel emphatically said, "No."
"The nightly news shows might be suffering," Jefferson said. "But we will always need the traditional outlets to present news as only they can."