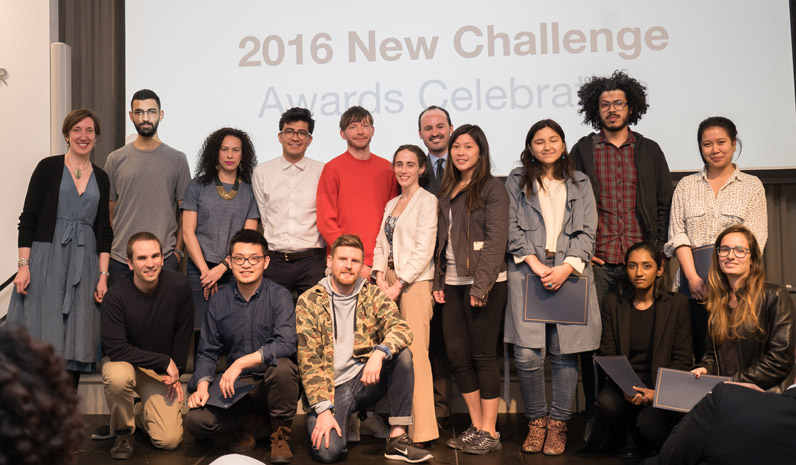 New Challenge 2016: Student Ideas Make Social Impact
On any given day, outside grocery stores, bakeries, and restaurants across the United States, people stop to root through dumpsters in search of their next meal.
The dumpsters, which are filled with discarded food that is still edible, are a crucial resource for many hungry people. However, though this food is in perfectly good condition, a stigma is attached to the act of retrieving it.
Christian Smirnow, Cameron Hanson, Christopher Lopez, Jack Wilkinson, and Andrea Burgueno Castro, students in Parsons School of Design's Transdisciplinary Design MFA program, are using design to eliminate this stigma. They created GoodFill, a glow-in-the-dark plastic bag that grocery stores can fill with unwanted but edible food and that can be easily identified by hungry people.
The students hope to shed light—literally—"on our wasteful consumer behavior and give the chance to contribute in an easy and effortless way to food access, waste reduction, and a better environmental consciousness," Smirnow says.
"Once out on the streets, GoodFill will be highly visible, which hopefully will create a behavioral nudge for New Yorkers who hear about it and see it to understand how much food is going to waste that could be used for consumption—for free," Smirnow adds.
GoodFill is one of eight projects that were recently awarded funding from New Challenge, a social innovation contest at The New School that funds innovative solutions to urgent social and economic issues. This year's New Challenge Fellows, including 24 undergraduate and graduate students, will receive grants of between $2,500 and $5,000 to help take their projects from great idea to effective reality.
"New Challenge supports students in applying what they are learning in the classroom to real-world challenges," says Michele Kahane, associate dean of the Schools of Public Engagement and faculty director of New Challenge. "They develop the entrepreneurial mindsets and skills needed to thrive in a rapidly changing economy."
Through New Challenge, students learn to empathize with others, collaborate across disciplines, solve problems creatively, adapt to changing circumstances, and persist in the face of obstacles. These skills prepare them to thrive in a rapidly changing global economy.
"Many of these ideas develop through personal observations or experiences, so it's amazing to watch the ripple effect they have in terms of creating large-scale change," said Elizabeth Werbe, associate director of New Challenge. "It's gratifying to design experiences that provide students with the encouragement and support needed to translate their ideas into reality."
This year's projects include digital media programs Crosswires, which takes aim at invasive tourism, and CutTheCake, which promotes a culture of cooperation. Education reform is tackled in Flip it Forward, an educational project that provides middle school teachers in India with better training, and in The Bell, a podcast that aims to create institutional change in New York City public schools. There are teaching tools in Tohuaxcan Tlahtole—Our Language, a media education program that teaches people the Nahuatl language in Mexico and the United States, and Post from the Past, which allows pre-college students to interact with historical figures through unique content. Finally, DebTerminator helps first-generation college students save for the future through experiential financial education.
"My long-term vision is to create a new system of education financing," said Yaromil Fong-Olivares, Organizational Change Management '17. "If we are able to transform the current student financial services system, perhaps a new and more equitable system will emerge in which there is real choice in financing and repayment options. As it stands now, financing one's education feels like a choice between a rock and a hard place—not an empowering place to be when you are a first-generation college student from a low-income family."
As in past editions of New Challenge, this year's projects were judged on the clarity with which they have defined the problem, innovation in the proposed solution, potential for sustained social impact, feasibility, team leadership, and the degree of collaboration with external partners.
"New Challenge enriches the learning experience across degree programs by creating a pathway for students to translate their ideas into reality through rigorous student-centered experiential learning," said Mary Watson, executive dean of the Schools of Public Engagement. "I am constantly amazed by the imagination and determination of our students."
A New Challenge Fellow from last year, Kate Wallace, Design and Technology '15, affirmed the significance of her experience.
"Taking part in New Challenge has been my most valuable experience at The New School," said Wallace. "It has taught me how to make a real impact on the world and made me realize what I want to do for the next ten years. The support of New Challenge has given me the confidence to pursue this project on a bigger scale and the mentorship I needed to see it through. I have received leadership training that I will use for the rest of my life."