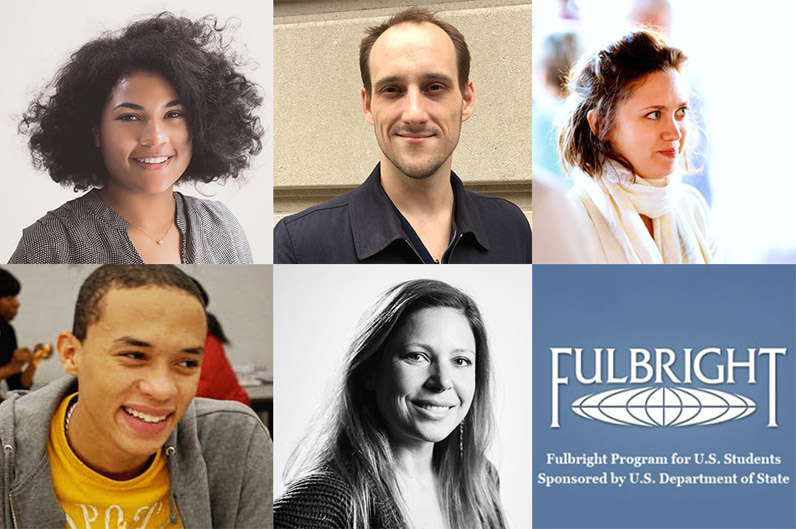 New Schoolers Named Fulbright U.S. Student Finalists
At The New School, students use design and research to confront the most pressing global issues of our time.
Now, five of the university's students and alumni will have the chance to pursue that work on the ground as finalists in the Fulbright U.S. Student Program, an initiative sponsored by the U.S. Department of State's Bureau of Educational and Cultural Affairs that provides grants for research, study and teaching opportunities in more than 140 countries around the world.
They are Nelson De Jesus Ubri, BFA Architecture '15, Ryan Elisabeth Reid, BFA Integrated Design and BA Creative Writing, '13; Rebecca Hollender, PhD Public and Urban Policy '18; Alexandra Vasquez, MA International Affairs '15; and Edward Wilcox, PhD  Politics '18.
"The New School has a rich and successful history of fostering preeminent scholars, artists and performers who are pushing at and crossing the boundaries of their fields," New School Provost Tim Marshall says. "The U.S. Fulbright Student Scholars exemplify this creativity and intellectual rigor of the university."
De Jesus Ubri,

the recipient of a Fulbright Academic Research Grant,

will study the effects of hurricane disasters in the Dominican Republic, specifically in the Peravia Province, through studies of flood conditions in upstream and downstream areas of Bani River.
Reid, the recipient of a

Fulbright Arts Research Grant

, will study elder care in rural villages in Nepal. The exploration will culminate in a visual and performance art piece presented in Nepal and the United States.
Hollender, the recipient of a Fulbright Academic Research Grant, will travel to Ecuador, where she pursue her project on alternatives to development in Latin America.
Wilcox, the recipient of a Fulbright Academic Research Grant, will be stationed in the European Union, where he will study the politics, technologies and practices of EU border control and migration management.
Vasquez, the recipient of a Fulbright English Teaching Assistantship Grant, will work in Colombia.
The Fulbright Program, America's flagship international educational exchange program, is sponsored by the United States Department of State and the Bureau of Educational and Cultural Affairs. Since its establishment in 1946, under legislation introduced by the late Senator J. William Fulbright of Arkansas, the Fulbright Program has provided funding for approximately 300,000 students, scholars, teachers, artists, and scientists to study, teach and conduct research, exchange ideas, and contribute to finding solutions to shared international concerns.