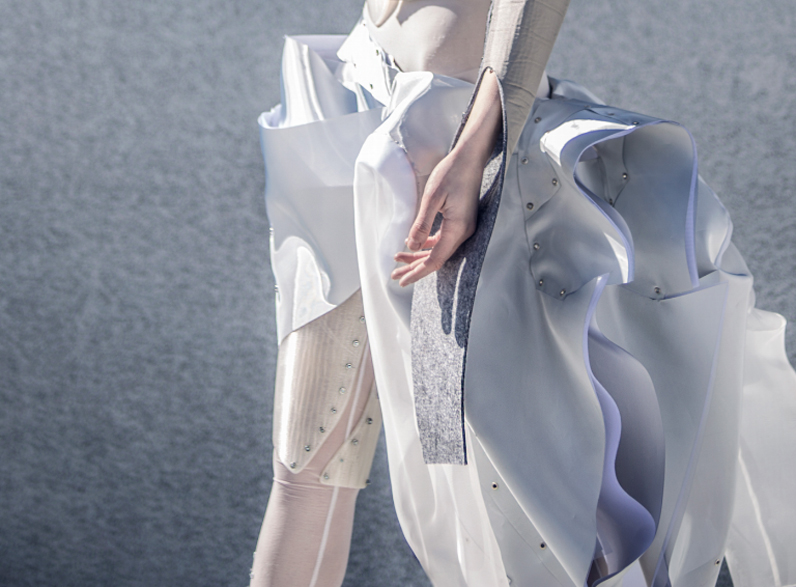 Parsons Benefit: Socially Engaged Designs Hit The Runway
To witness the future of the fashion industry, look no further than Parsons School of Design.
There, students such as Annie Li, BFA Fashion Design '16, are making runway-worthy strides: The Chinese-Canadian designer was named one of four recipients of the Hugo Boss Collection Prize, the winner of the Swarovski Crystal Sponsorship, and one of 12 finalists for the fifth edition of the Parsons x Kering Empowering Imagination design competition, a program that grants its two winners a two-week trip to Kering facilities in Italy.
And this month, she will present her final collection during the Parsons Benefit and Fashion Show at Pier Sixty. The annual Parsons Benefit celebrates the next generation of fashion design leaders, raises funds for student scholarships, and honors individuals who are acclaimed in their fields. This year's honorees are fashion icon and Parsons graduate Donna Karan; art curator, philanthropist, and New School graduate Beth Rudin DeWoody; actress Sarah Jessica Parker; and Huffington Post co-founder and editor-in-chief Arianna Huffington. These extraordinary women are being recognized for their influence in fashion, art, performance, and media, as well as their efforts to promote positive social change.
"We have so much to celebrate at Parsons this year, starting with the four women we are honoring for their work in social good and their accomplishments in art and performance," says Joel Towers, executive dean of Parsons School of Design at The New School. "We are also celebrating the beginning of a new tradition. After 68 years of fashion benefits, we are now partnering with our sister schools in the College of Performing Arts—bringing design and performance together. We think this combines two of the great strengths of New York City."
Li, who counts Viktor & Rolf and Simon Porte Jacquemus as influences, has wanted to be a designer for as long as she can remember. She developed her creative voice through Parsons' rigorous curriculum and design-inspired approach to education.
"For my thesis collection, titled The Daydreamer, I drew inspiration from Frances Hodgson Burnett's The Secret Garden," Li told Vogue. "I always begin with a mood, an emotion that I feel strongly about, and from there I begin to search for photographs, art, or a literary work that sparks my interest."
One of the world's leading art and design schools, Parsons teaches students to use design to solve pressing social issues, including the destruction of the environment. For instance, several students explored ways to create zero-waste clothing.
"My thesis collection, Disconnect, is a sustainable collection that focuses on the codes of washable luxury and employs zero-waste pattern cutting," says Shweta Lakhani, BFA Fashion Design '16. "Understanding that sustainability does not end at the production stage, the collection embodies 'washable luxury' as a means of caring for clothing. All fabrics have been tested and are machine washable. We're fortunate to be graduating into a changing industry, one that is becoming more responsible and ethically concerned."
Lucy Jones, last year's Designer of the Year, created a collection of clothing for people with limited mobility. Inspired by her cousin, who is paralyzed on the left side of his body, Jones created a design solution that allowed him to put on clothing independently.
"There isn't a one-size-fits-all mind-set at Parsons, which is what makes it such a unique school," Jones says.
In addition to the fashion show, students from the College of Performing Arts, including School of Jazz graduate Linda Briceño, a two-time Latin Grammy nominee, will perform during the Parsons Benefit.
"This year's Parsons Benefit showcases the unique cross-disciplinary learning opportunities at The New School by bringing together students from Performing Arts and Parsons to collaborate in new and meaningful ways," says Richard Kessler, executive dean of the College of Performing Arts. "The opportunity for our students to perform alongside the Parsons students, who will debut their designs during the runway show, underscores The New School's commitment to creative collaboration and represents the best of what our distinctive schools have to offer."
Designers in this year's Parsons Benefit have exciting careers ahead of them — careers in which they can change how the world views fashion.
"The industry of the next 20 years will be very different from the one of the past 20," says Lakhani. "I hope to be part of that change."