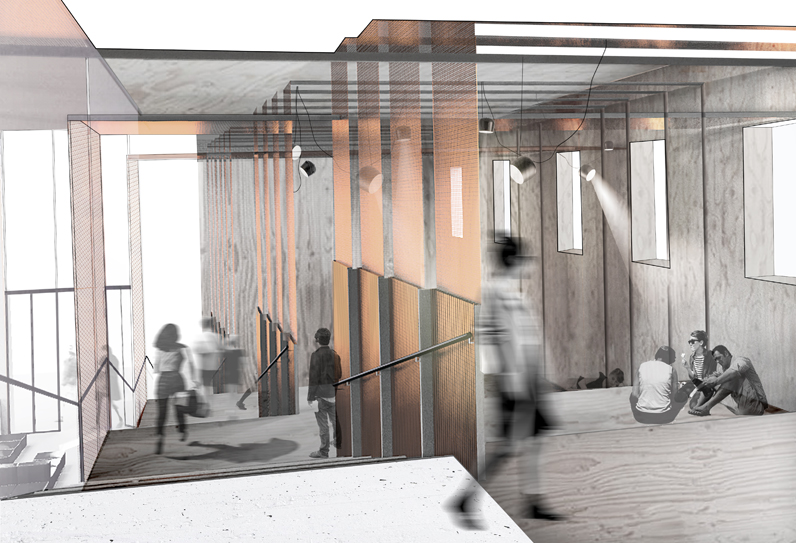 Parsons Student Elysia Belilove Awarded the Angelo Donghia Foundation Senior Scholarship
Elysia Belilove, BFA Interior Design '16, has been awarded the prestigious Angelo Donghia Foundation scholarship for her project, Kin Steps, a design for a hostel and co-working space.
The national award includes a $30,000 scholarship that will fund Belilove's final year of study. She submitted her project at the behest of her professor, BFA Interior Design faculty member Wid Chapman.
"I was absolutely thrilled when I heard the news," Belilove says. "It was an honor and surprise that the jury from the field selected my work and I feel endlessly appreciative to the Donghia Foundation for their support in my senior year at Parsons."
Kin Steps is a hostel and co-working space that "became an opportunity for me to reimagine the way we work and interact with one another," Belilove says.
"The concept takes advantage of light, air and visual possibilities of the atrium from the existing site," she added. "Spaces are discovered not at once, but through a sequence of steps designed to facilitate moments of spontaneous encounter."
Created by Donghia, a 1959 graduate of Parsons School of Design, The Angelo Donghia Foundation Scholarship encourages and rewards talented and dedicated students entering their senior year in a bachelor's degree program in interior design.