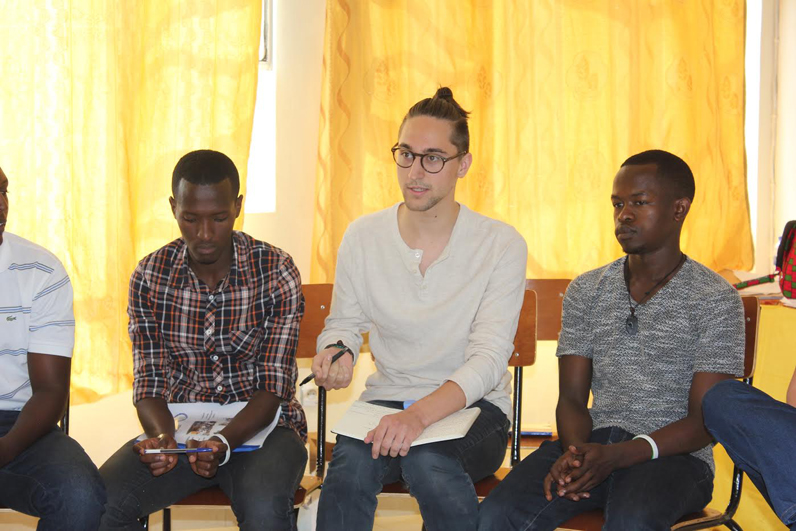 Lang Students Combine Research and Real-World Experience to Confront Social Issues
A human rights activist focused on researching queer theory, settler colonialism, and gender violence, Eugene Lang College student Jamey Jesperson, Global Studies BA Fall '16, has always wanted to work for a human rights organization.
Jesperson got the chance to do just that when they landed a summer internship with the Women's Rights Division of Human Rights Watch, part of Lang's new Social Science Fellowship program. As part of this fellowship, Jesperson is also researching topics in preparation for writing a paper that will incorporate the practical knowledge acquired through the internship. New School for Social Research PhD candidate Lara-Zuzan Golesorkhi, Politics '17, is helping Jesperson decide what direction to take with the paper and will supervise the writing process throughout the fall semester.
"This internship is enabling me to discover exactly what type of human rights work I want to pursue," Jesperson says. "My studies these past three years have revolved around queer theory, gender violence, and social justice. Working at Human Rights Watch, I've been able to learn of various different jobs and departments that put into practice what I've been studying
The Social Science Fellowship is a unique program available to Lang students that fuses social science research training with practical experience in a related non-academic setting. While gaining policy-related experience in government, civic, and advocacy organizations, Lang students work with mentors from NSSR's PhD programs to develop research papers related to their internships; the papers will be presented at the end of the fall 2016 semester.
These fellowships highlight the core values of The New School, as Lang students collaborate with their NSSR mentors to develop research informed by their practical experiences. While the students are all well versed in writing research papers, the projects they present at the end of the fall semester will be their most rigorous to date, and will benefit from the mentors' individual attention.
"The fellowships provide a distinctive and unique opportunity for Lang and NSSR students to work collaboratively on major issues of politics and policy in New York and the region," said David Plotke, professor of politics at NSSR and faculty director for the fellowships. "The combination of practical engagement and research inquiry is engaging and demanding."
Once Jesperson completes their internship, Golesorkhi will take a more active role as a mentor to help Jesperson write their research paper. Golesorskhi, whose research focuses on women's immigration, might not be an expert in Jesperson's specific research topic, but, according to Jesperson, "Lara has been a mentor across all fronts. She has shown me how I can merge my academic interests with my practical experience."
"I will be teaching Jamey the methods of writing this longer-than-usual research paper," says Golesorkhi, who founded a nonprofit organization focused on the rights of female Muslim migrants in Germany. "I will help Jamey research and develop their topic as well as frame the message they want to send."
For Jesperson and Golesorkhi, confronting pressing social issues can best be achieved through a combination of research and action — an approach they plan to take with them into their careers.
"I love school, and I'm definitely an academic," said Jesperson. "I'm trying to merge academics with practical human rights work, and I'll only be happy if my career combines both."
"I have a critical eye for what NGOs are doing because of my education at The New School," Golesorkhi says. "I would like to stay between the nonprofit world and academia. It's not an either/or decision for me. It's a complementary relationship between my dissertation and my nonprofit work, because they both inform each other."
The eight 2016 Lang Social Science Fellows—chosen through a competive multi-step process—are currently interning at a variety of organizations in addition to Human Rights Watch: the Center for Court Innovation, the New York City Mayor's Office of Immigrant Affairs and Office of Criminal Justice, the Participatory Budgeting Project, PIPs Rewards, and Rockefeller and Company.
"The practical experience and insights gained through the fellows' summer internships are the perfect complement to the related in-depth research projects they undertake in the fall," says Jane McNamara, assistant dean of strategic initiatives at Lang and co-director for the fellowships. "Together these experiences will prepare the fellows for a myriad of future academic and career paths."