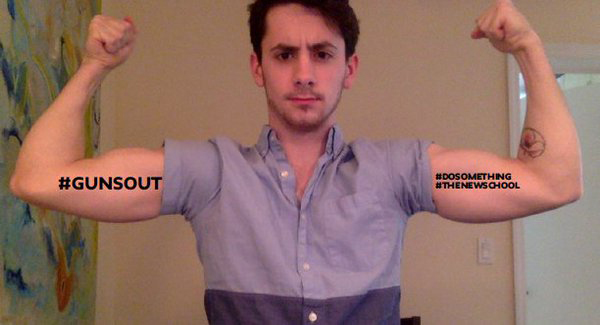 Storm Hurwitz, Global Studies '16, Flexes His Muscles for Gun Control
Ever since the 2007 Virginia Tech shooting, one the deadliest mass shooting incidents in U.S. history, state lawmakers in at least 37 states have proposed legislation that would permit students to carry guns on college campuses. Allowing students to do so, the lawmakers argue, would make them better prepared to protect themselves from violent attackers.
But for thousands of college students across the country, the solution to this pressing issue isn't allowing more guns in, but keeping #gunsout of college campuses. Guns, they argue, can only lead to more violence.
Among them is Storm Hurwitz, Global Studies '16, who joined his peers in a social media campaign to stop the flow of firearms into college campuses. As part of that effort, Hurwitz encouraged New School President David Van Zandt to sign a letter publicly stating that he was opposed to concealed carry laws. Van Zandt didn't need much convincing.
@DavidVanZandt signed the @dosomething #GunsOut letter on 3/31! Thanks for taking a public stance on keeping guns off campus! @TheNewSchool
— Storm Hurwitz (@stormhur) April 14, 2016
Glad to support this effort @stormhur. @TheNewSchool prohibits weapons on our campus. https://t.co/W1W8gZUqYf — David E. Van Zandt (@DavidVanZandt) April 14, 2016
Prompted by DoSomething.org—a global organization for young people and social change led by New School trustee Nancy Lublin and staffed by many New School alums—Hurwitz and thousands of students posted pictures of themselves flexing their muscles with the caption, "These are the only guns I want on campus." The effort, a partnership between DoSomething.org and The Campaign to Keep Guns Off Campus, gave students the opportunity to take a stand against allowing guns on school premises. While The New School already prohibits firearms on university property, Hurwitz's efforts and Van Zandt's pledge reaffirmed the university's commitment to maintaing a gun-free campus.
Hurwitz, a former global attitudes research assistant at DoSomething.org and current health campaigns specialist at the NYC LGBT Center​, has been advocating for student concerns since he began attending The New School. As the former co-chair of the University Student Senate, he pushed for improvements to student life. Now, he is tackling a concern that not only impacts New School students, but also students across the country.
"This experience was incredible," Storm told DoSomething.org, "And a testament to recognizing the importance of my 'place' in relation to the change I want to see in the world."