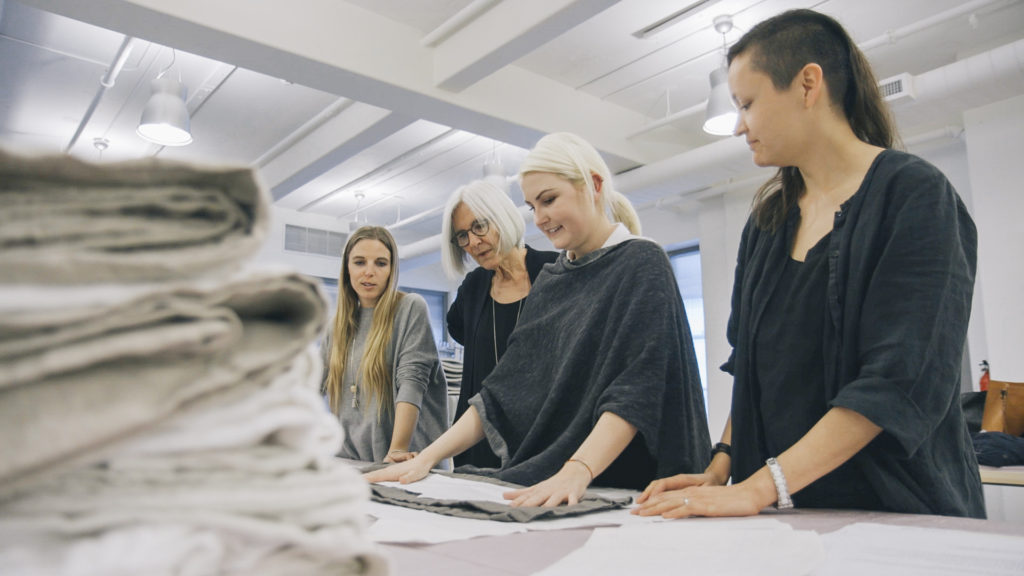 Parsons Alumnae Partner with Eileen Fisher on Sustainable Designs
Producing 500 limited edition pieces of clothing using virtually no new materials is a daunting task for any designer, let alone one who's right out of college.
But Lucy Jones, Teslin Doud, and Carmen Gama, Fashion Design '15, did just that, creating the project during their yearlong fellowship focusing on using existing, sustainable materials with Eileen Fisher.
The Eileen Fisher x Council of Fashion Designer of America Social Innovator fellowship culminated in a collection, "Remade in the USA," which will be sold at a pop-up shop in Brooklyn, at 47 Bergen St., on July 29 and 30, 12-7 pm.
"The variability in garment styles, sizes and damages can be incredibly overwhelming," the designers said. "Our hope was to approach this project thinking about scalable systems that can be put in place to manage the transformation of damaged garments into new, beautiful, and sellable clothes."
The fellowship was held in conjunction with Green Eileen, a program that accepts old clothes for the creation of new ones. Since 2009, the program has accepted 600,000 garments. Clothing that cannot be resold in Green Eileen stores is sent to Jones, Doud, and Gama, which focuses on natural dyeing, felting, and resewing when up-cycling new pieces that are then sold in pop-up shops across the country.