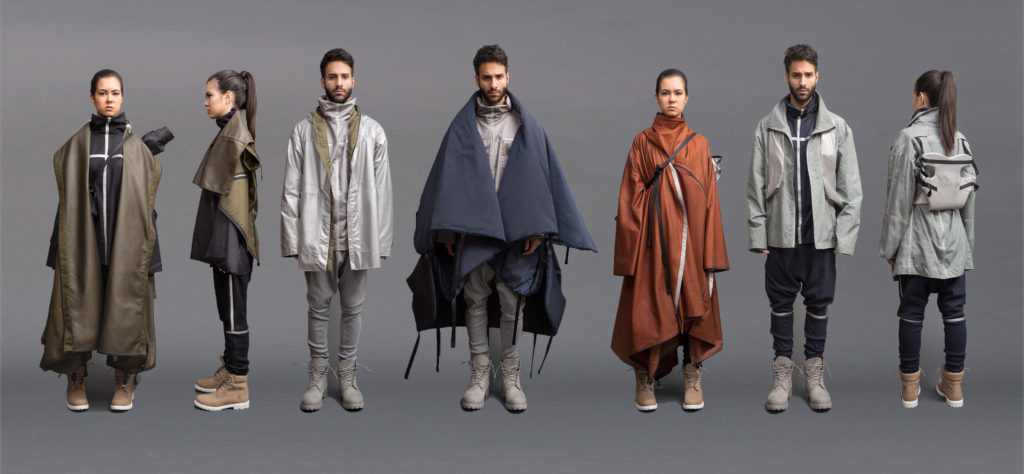 Angela Luna, BFA Fashion '16, Designs Solutions for Refugees
One minute, Angela Luna's long flowing jacket, a piece that's perfect for a rainy New York City day, was making its way down the runway at the 2016 Parsons Benefit. The next minute, it turned into a tent. Once Luna had transformed the piece into a portable shelter, it became clear that her senior thesis collection wasn't just about the mercurial weather patterns of New York, but about a far more pressing issue.
"I want to make clothing that does something, as opposed to making clothing that's beautiful or just to be worn," says Luna, who created her collection, Design for Difference, to help Syrian asylum seekers on their journey to find peace. "Trying to solve problems and be relevant to the fashion market was a major challenge, but it worked out in the end."
Luna, BFA Fashion Design '16, who was named Womenswear Designer of the Year at the 2016 Parsons Benefit, embodies the school's commitment to using design for social good. She has earned praise from the fashion world and proved that designers can do more than just make beautiful clothes —they can change lives. She received an enthusiastic response when she presented her pieces to the United Nations Global Compact Leaders Summit, and she will present her collection at the UN Nexus Youth Summit later this month.
Luna was inspired to help Syrian refugees after watching a video of their perilous journey across the Aegean Sea to Europe. Even though she's a fashion designer, Luna believed she could use her experience and expertise to address an urgent issue facing millions of people.
Design for Difference is made up of outerwear pieces that serve different functions for refugees: A jacket with a removable reflective harness that can transport small children; a long overcoat that transforms into a warm sleeping bag; a coat that can turn into a small tent. Luna, who plans on expanding the collection to serve more purposes, will be working with a distributor throughout the next year to bring the pieces to life.
"The New School encourages its students to think about social issues from the start of their academic careers, which makes it easier to approach these kinds of projects," says Luna, adding that she was inspired by Lucy Jones, Fashion Design '15, who won last year's Womenswear Designer of the Year award for her fashion line for seated individuals.
"Angela really challenged the fashion system, designing something that was both beautiful and addressed a complex issue," said Yvonne Watson, associate dean of the School of Fashion.
While Luna is currently focused on addressing the refugee crisis, she sees vast potential for fashion design to help with other social and environmental issues.
"By using recycled materials and repurposing what was considered waste, the fashion industry can reverse the negative effects they have created for the environment," Luna says. "This is a reason why I'll be working with sustainable materials and production going forward."
Under the leadership of Burak Cakmak, dean of the School of Fashion, Parsons has encouraged its students to consider urgent social and environmental issues and consumer preference when designing clothes. Professors and students have been experimenting with zero-waste design, and sourcing sustainable materials, all with the goal of designing a better future.
"Understanding and designing for the societal context as a fashion designer is one of the key pillars of a Parsons fashion education today," Cakmak says. "Angela Luna's collection addresses a pressing global issue that is affecting millions of people, and I am glad that she is applying her learned skills toward making a difference."
The refugee crisis is but the first challenge Luna hopes to confront.
"I'm extremely interested in women's rights issues worldwide and in America," she says. "The fact that rape is not only still happening in our society but happens to one in five women in the U.S. is absurd. I do not know yet how design could address this, but it is definitely on my mind, and that's how Design for Difference started."