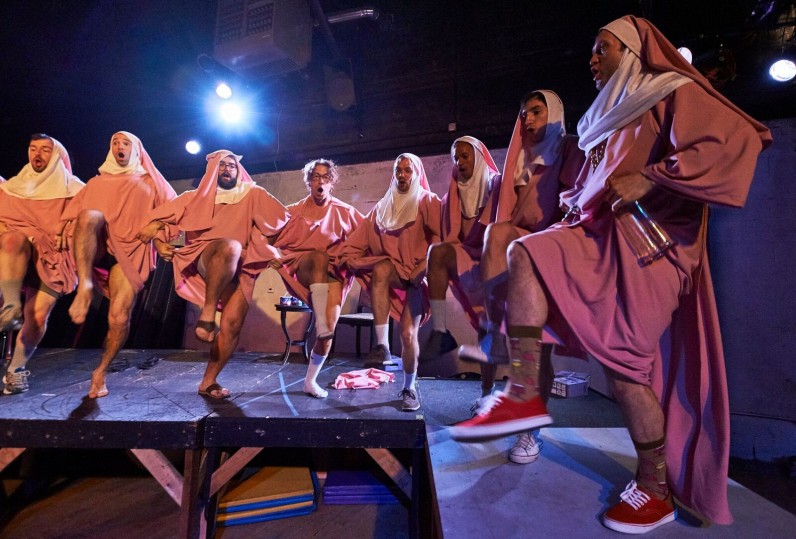 With Brio, Beer, and a Small Budget, Jazz Alums Bring Opera Back Down to Earth
Inside a sprawling warehouse in the industrial wilderness of Bushwick, Brooklyn, a crowd of chicly dressed middle-agers and denim-clad 20-somethings sipped wine and beer from red Solo cups. Drake and Beyoncé songs spilled from overhead speakers. Outside, in a gravel lot bordering a trash-strewn embankment, singers issued soaring notes into hand-held devices.
Back inside, the crowd took seats on benches and folding chairs surrounding an elevated platform. The stage lights went up. Then the singers appeared, presenting a kick line of cross-dressing nuns; a party complete with booze, yogurt cups, and a game of naked Twister; and finally a threesome involving a page, a countess, and one very confused nobleman.
The atmosphere at this performance of Rossini's Le Comte Ory was a distant cry from the genteel ambiance of the Metropolitan Opera House. But that's how LoftOpera—a ragtag stable of emerging musicians and singers who stage operas in underground venues, lofts, and warehouses—likes it. Co-founded by Daniel Ellis-Ferris, BA Liberal Arts/BFA Voice '12; Dean Buck, BFA Jazz and Contemporary Music '12; and Ellis-Ferris' step-sister, Brianna Maury, the group pulls an art form often seen as highfalutin back down to earth, creating an egalitarian space in which all theatergoers, regardless of cultural or economic background, feel at home.
Asked about the goal of LoftOpera, Ellis-Ferris says, "To put on a show that my friends would want to go to."
"If you remove the opera from the proscenium or the Met or the culture surrounding it, and put it somewhere else—say, a warehouse deep inside Bushwick—the art itself is still extremely powerful," Ellis-Ferris says. "I truly believe that you can put this art into any setting and it would translate to a powerful experience for the listener."
The performance of Le Comte Ory proved Ellis-Ferris' theory. Held at The Muse, a practice and performance space for area circus performers, the production was one part keg party, one part high culture: Audience members swigged $5 cups of beer and boxed wine as they came nose to nose with professional singers and musicians who presented an outstanding rendition of one of the most vocally demanding operas ever written. Like all of LoftOpera's productions, Le Comte Ory has been met with rave reviews (the New York Times called it "a perfect union of New York's most raucous and delightful opera company with one of the most raucous and delightful works in the repertory").
LoftOpera stages operas in underground spaces, lofts, and warehouses partly out of necessity: Rental fees are simply too high at established venues. It's also motivated, as Ellis-Ferris put it, to "take music to place where audience already is."
"Lofts and warehouse parties may seem, to the more refined theatergoer, far out in Bushwick," Ellis-Ferris says, "but that's where 28-year-olds are going on the weekends and on dates."
He adds: "Traditional opera companies want to build their audiences and attract younger audiences—as if you have to set fly traps. We're taking the opposite approach."
That approach is coupled with a ticket price which, at $30, is easy to swallow.
Opera is one of the most expensive art forms to stage, and LoftOpera is determined to keep costs low. That also goes for the sets and costumes. Fabrics used for the costumes in Le Comte Ory were upcycled from thrift stores, while the company's sets were built from materials scavenged from used Ikea furniture and wood from Home Depot. A giant four-poster bed, the stage for the aforementioned polyamorous antics, was built by Ellis-Ferris for a mere $400.
"It's all about taking the time to figure out how to do stuff the cheapest way, but having the good taste to make it effective," Ellis-Ferris says. "It's about taking action and throwing it together."
That LoftOpera is able to stage such big performances with relatively few resources speaks to the entrepreneurial spirit at the core of a College of Performing Arts (COPA)  education. It was at the school that Ellis-Ferris and Buck became part of a community of musicians who pulled together live shows at nontraditional spaces on shoestring budgets. As with those performances, LoftOpera marries a low-cost approach with a high level of talent: Performers boast professional training and stellar resumes.
LoftOpera's founders were also shaped by SOPA's multidisciplinary education. As students in the School of Jazz, Ellis-Ferris and Buck had the opportunity to take classes at Mannes College, including ones in opera. Combining their experiences staging live shows with their love of opera and with sponsorship from The New School, the friends formed LoftOpera.
Now that Ellis-Ferris and Buck have begun revolutionizing the way opera is staged in New York, the duo hope to take their formula to other parts of the country, including Detroit and New Orleans. They're out to prove a grand theory: that one need not experience opera beneath a crystal chandelier or pay hundreds of dollars to truly appreciate the art form.
"Big picture, our goal is to create some widespread lasting change in how opera is produced in America," Ellis-Ferris says. "We want to organize in other cities and continue to prove that this format works for the art form. In the end, this will become a common way to see music and opera."