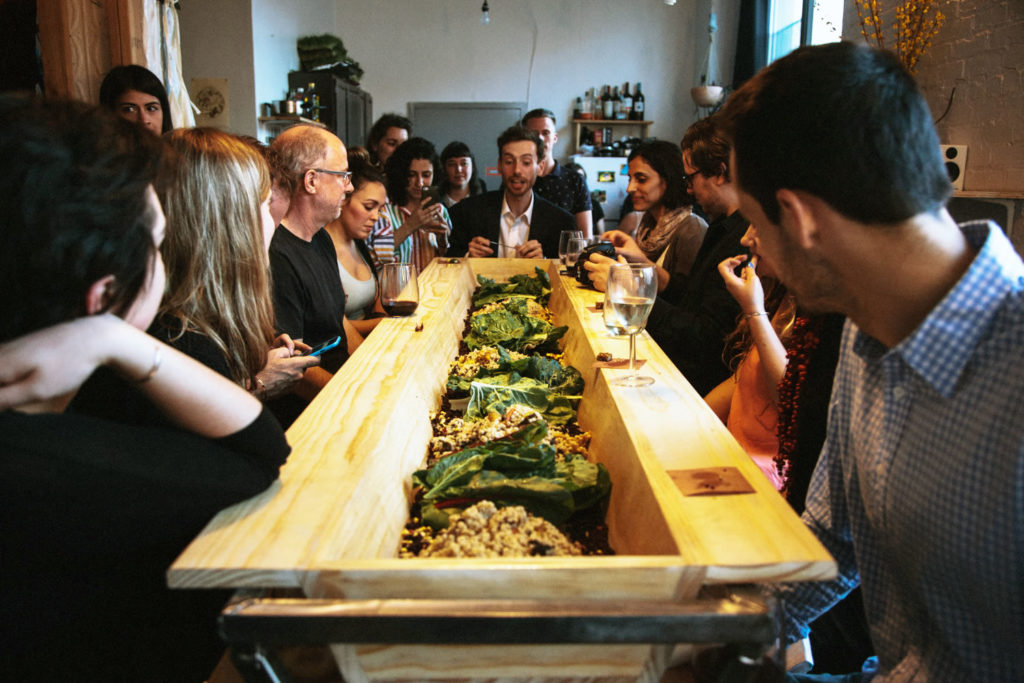 Eating What Your Food Eats: Misha Volf, Design Studies '16, Connects The Production and Consumption of Meat
On a recent evening, a cadre of foodies crowded into a residential loft in Bushwick, Brooklyn for a four-course feast. While they were expecting to eat farm-fresh food, they had no idea they would be getting so close to the actual farm. Instead of a table, the diners gathered around a communal feeding trough complete with a mini "pasture" and dined on salt licks, colostrum, hay, and grass.
Farm-to-table experiences are nothing new, especially in Brooklyn. But this one, designed by Misha Volf, Design Studies '16, and chef Aimee Hunter, is unlike any of its kind. Each course was created using various livestock feedstuffs — a means of bringing consumers closer to the experience of the animals they consume. Or, as Volf told his guests, you "get to know the animals you eat — by eating what they eat."
Dubbed Fodder, the "educational dining experience" is aimed at getting people to think critically about how meat is produced and consumed, and the once-living animal behind the shrink-wrapped cuts at the supermarket. Each year, the average American eats almost 200 pounds of meat and poultry, a diet that has massive implications for the health of the planet and the well being of humans and livestock. It is a pressing issue that Volf, like many students at The New School's Parsons School of Design, is confronting through design.
"What and how we eat are intimately connected to how our food is made," according to Fodder's website. "To participate in this cycle fully, knowing where our food comes from and how it is produced, is essential. This is especially true for meat, since knowing how farm animals are raised leads to better decisions about the health of our bodies and the sustainability of the planet."
Offering a farm-level view of the diet of an angus beef from young calf to adult steer, the inaugural edition of Fodder comprised four courses, each of which incorporated the animal's feed to represent the stages of its development. Guests even had to eat like animals, using their hands instead of utensils.
The meal started with an appetizer of rich and flavorful salt lick blocks, representing the mineral source for cows in their third-trimester, followed by the first course, titled "Calf." This dish, a neat square of leaf-wrapped raw colostrum ricotta, stood for the milk calves drink shortly after birth to boost their immune systems. To evoke the bovine experience, Volf asked the diners to forage for the ricotta in a bed of edible grass resting inside a communal basin.
The next course, entitled "Weaner/Feeder," was a tempura of hay with a pickled "bailage" corn relish — a dish representing the cow's winter diet of dried and fermented grasses. Diners were asked to consume the course atop a bed of "dirt" (in actuality, edible fare created by Hunter) to evoke the experience of a cow that has been taken off pasture and brought into the barn for the cold season. The following course, called "Finisher," was a barley stew "representing the final stage of life of Yahoo, the steer that [would] soon be served," Volf says.
"It is at this point that ranchers begin to feed their cattle a high-calorie regimen — in the case of Yahoo, a variety of grains — in order to fatten them so that they get to a marketable range," Volf continues. "To bring an animal to market' is of course a shorthand for slaughter."
Finally came the main course — Yahoo himself. Each of the diners was served roasted chuck, along with individual samplings of oxtail, bone marrow, tenderloin tartare, and pickled tongue. Alex Swerdloff, a writer from Vice who attended the dinner, was moved by the spread before him.
"As I was tearing into the juicy, perfectly cooked flesh of Yahoo, I couldn't help but feel a tinge of regret," he wrote in his article for Vice. "I'll gladly eat a double-bacon cheeseburger, but this exercise in eating what Yahoo eats had left me with some serious qualms about being a carnivore for the first time in years."
Fodder isn't the first time Volf has used design to address a socio-political issue. Last semester, he participated in a project in which Parsons students worked with the New York Public Library's Correctional Services Program to design and fabricate four book carts for Rikers Island and the Manhattan Detention Complex. He also joined his Design Studies classmates Estefanía Acosta de la Peña and Laura Sánchez to create an initiative to place modified iconic "You Are Here" stickers on subway maps to point out the missing location of Rikers Island.
While Volf's résumé highlights an impressive range of socially engaged projects, Fodder represents his most provocative yet. At the start of the meal, diners wondered if they had bitten off more than they could chew. But with each savory, peculiar bite, they grew to appreciate the meal — and its lessons for the ethical production and consumption of meat — more and more.
"With meat, the proposition that food is a real material link between us and the world is intensified, since it connects our bodies to the bodies of others, particularly those of livestock animals," Volf says. "The cultures of meat consumption and production seemed like a rich topic to explore through the theatrical form of the meal. Meat holds a powerful story, and the meal turns out to be an exciting way to tell it."