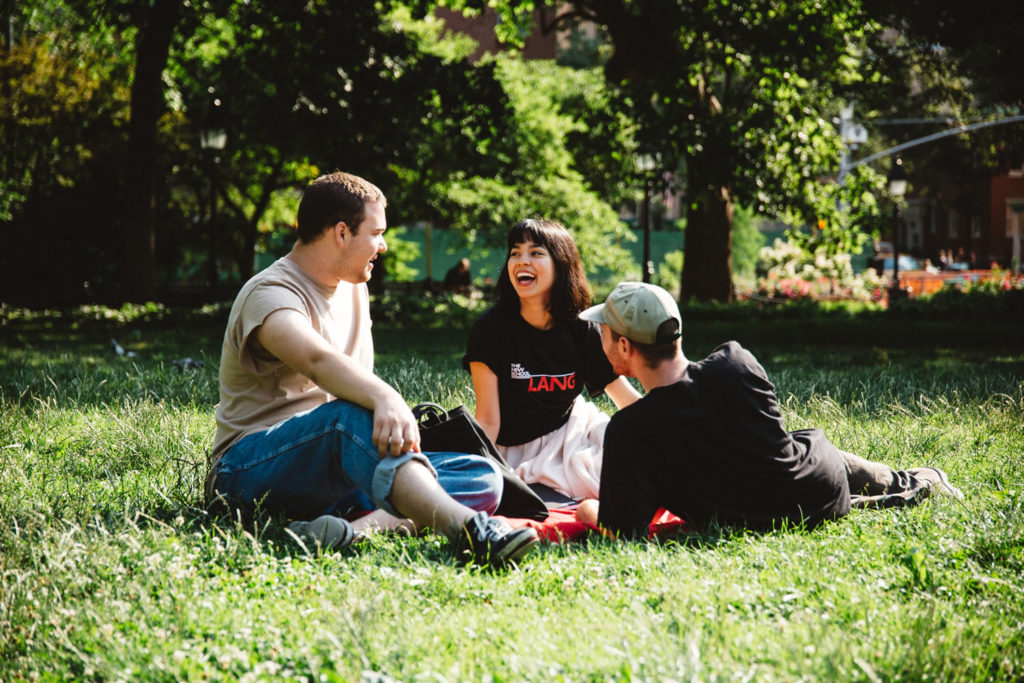 Have a V. Village Weekend: Your Guide to the Neighborhood
Whether you're from Montana or Mumbai, being in New York City can be both exciting and overwhelming—there's so many people, so much energy, and so much to see and do. So, why not start with your new neighborhood, Greenwich Village?
Places to Go More than a half century removed from its heyday as an artist's mecca, Greenwich Village remains one of the most culturally vibrant areas of New York City. From Houston Street to 14th Street, from Fourth Avenue to the Hudson River, there's no shortage of live music venues, art galleries, movie theaters, and bookstores to check out. Take in an exhibition opening (typically held on Thursdays) at one of the neighborhood's many art galleries, including White Columns (West 4th Street and Horatio Street), The Hole (Bowery and Bleecker Street), or The New School's own Sheila C. Johnson Design Center (Fifth Avenue and West 13th Street). You can catch a movie at Regal Union Square (Broadway and East 14th Street) or the IFC Center (West 3rd Street and Sixth Avenue). For live music, pay a visit to the storied jazz joint Blue Note (West 3rd Street between Macdougal Street and Sixth Avenue) or the venerable rock club The Bitter End (Bleecker Street between Thompson Street and LaGuardia Place). For a few laughs, check out the comedy shows at the Greenwich Village Comedy Club (Bleecker Street and Macdougal Street) and the Comedy Cellar, which is right next door. If you feel like wandering around, take a stroll past the neighborhood's row house–lined streets, where notable New School alums Marlon Brando, Jasper Johns, and John Cage lived, and through Washington Square Park, a prime spot for people-watching and impromptu yoga sessions.
Places to Shop But more than just a cultural center, Greenwich Village is a shopping smorgasbord, with clothing boutiques, art supply shops, and record stores dotting the streets. But be careful, because it's really easy to spend money here. However, if you do, make sure to take advantage of the myriad discounts for New School students. Show your Newcard—that's your student ID—at Barnes & Noble (17th Street at Union Square) and A.I. Friedman (18th Street and Sixth Avenue) for a small but welcome discount (Blick Art Materials also offers some student discounts). If you want to up your wardrobe (and you probably will once you get a look at the unfathomably chic people walking the streets of New York), head over to J.Crew (17th Street and Fifth Avenue), Club Monaco (21st Street and Fifth Avenue), and Madewell (19th Street and Fifth Avenue), where your Newcard also gets you a discount. Speaking of deals, Greenwich Village is a utopia of thrift and vintage stores. Sift through the racks at Monk Vintage Thrift Shop (West 8th Street and Macdougal Street), Cure Thrift Shop (East 12th Street and Fourth Avenue), and Beacon's Closet (West 13th Street and Fifth Avenue) to unearth some secondhand gems. Literary and music nerds can browse through the 18 miles of books at the world-famous Strand Book Store (Broadway and East 12th Street) and stacks of vinyl at Generation Records (Thompson Street between Bleecker Street and West 3rd Street) and Bleeker Street Records (Barrow Street and West 4th Street).
Places to Eat With all the exploring, you're bound to work up an appetite. Look no further than The New School's own Dining Commons at the University Center, which boasts a menu of global, sustainable, farm-to-table food. Pretty much anything your heart desires—from sushi, salad and noodle bars, to sandwiches, pasta, and pizza—is made to order. More than your typical college cafeteria, the Dining Hall uses food as an entry point for discussions on social justice, environmental stewardship, the university's carbon footprint, the treatment of animals, immigration, history, health, and the role of industry. Or, if you're feeling adventurous, immerse yourself in the culinary buffet that is Greenwich Village. For Mexican, there's Dorado (East 12th Street and University Place) and Chipotle (8th Street between Broadway and University Place); for Thai, there's Spice (13th Street and University Place) and Galanga (4th Street between Sixth Avenue and Washington Square West); for pizza, there's Slice & Co. (14th Street and Sixth Avenue) and Two Boots (West 11th Street and Greenwich Avenue); for burgers, there's Corner Bistro (West 4th Street and Jane Street) and Umami Burger (Sixth Avenue between West 9th and West 10th Streets); and for Middle Eastern, there's Mamoun's (West 3rd Street and Macdougal Street) and Taim (Waverly Place and Perry Street). And circling back to discounts: Flash your Newcard at the Garden of Eden gourmet grocery (14th Street and Fifth Avenue), Breads Bakery (16th Street and Union Square West), and Bar Six (West 13th Street and Sixth Avenue) for ten percent off your bill.
Or Hang Out on Campus The New School is itself a Greenwich Village landmark comprised of several historic buildings. You'll have classes in many of them, so why not pay a visit before school starts? Alvin Johnson/J.M. Kaplan Hall (West 12th Street and Sixth Avenue) is one of the earliest examples of modern architecture; it is home to The Auditorium, a 468-seat venue featuring a proscenium-style stage that was named one of the world's most powerful rooms by ABC News in 2014 (also: Martin Luther King, Jr. spoke there!). There's also the Sheila C. Johnson Design Center (13th Street and Fifth Avenue), a winner of several national awards for innovative reuse of historic buildings, and the University Center (13th Street and Fifth Avenue), The New School's striking (and sustainable) flagship building. While making the rounds of the university's impressive architecture, make sure to admire the University Art Collection, which includes works by José Clemente Orozco, Sol LeWitt, Dave Muller, Kara Walker, and Glenn Ligon, on display throughout campus. There's plenty to do as well. You can hear from some of the most important cultural and political figures of the day, including the venerable feminist thinker bell Hooks, who will be in conversation with playwright and comedian Jill Soloway on Sept. 6 (see the full schedule of public programs on The New School's website). Finally, you absolutely have to stop by The New School's annual Block Party, featuring musical performances, tables where you can learn more about student groups, and FREE FOOD, on Thursday, Sept. 1. Good luck out there, and welcome to the neighborhood!