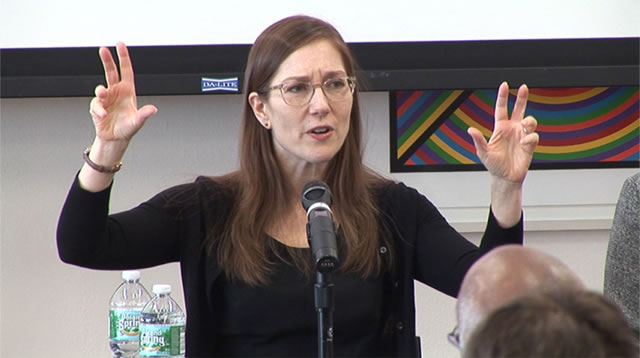 Heather Boushey, Economics '98, Appointed Clinton Campaign's Chief Economist
Earlier this year, Heather Boushey, Economics '98, returned to her alma mater to lead a compelling discussion on the political economy of work life conflict. In it, she zeroed in on the struggle of American families to balance their employment with their jobs as caregivers.
"Today's families are a lot different than they were 50 years ago, yet they must make do with a basket of workplace policies implemented at a time when the vast majority of women didn't work and there was someone at home to provide care for children or the elderly," she said.
To address this pressing social issue, Boushey has proposed a national paid leave program—one that would be available to all workers, tied to lifetime work history rather than current job tenure, and generous enough as to not jeopardize the economic security of low-wage workers who decide to take leave.
This and other family-friendly ideas have guided none other than Hillary Clinton as she shapes her plan for boosting women in the workforce. For the last few months, Boushey has helped formulate Clinton's policies as an "outside advisor" to the Democratic nominee's presidential campaign. Now, she's preparing to take on an even more influential role.
This week, Boushey, the executive director of the Washington Center for Equitable Growth and alumna of The New School for Social Research, was appointed the Clinton campaign's chief economist.
Great to see the excellent Heather Boushey as chief economist https://t.co/3FZrrekzyj

— Paul Krugman (@paulkrugman) August 16, 2016
Judging by her experience, Boushey is more than prepared to tackle this important job. In addition to her role at the Washington Center for Equitable Growth—a think tank founded to accelerate cutting-edge analysis into whether and how structural changes in the U.S. economy, particularly related to economic inequality, affect economic growth—she is a senior fellow at the Center for American Progress, a research affiliate with the National Poverty Center at the Gerald R. Ford School of Public Policy, and a member of the editorial review board of WorkingUSA and the Journal of Poverty.
In the past, she served as a senior economist with the United States Congress Joint Economic Committee, the Center for Economic and Policy Research, and the Economic Policy Institute. She also has testified before the U.S. Congress and authored numerous reports and commentaries on issues affecting working families, including the implications of the 1996 welfare reform. She is the author of Finding Time: The Economics of Work-Life Conflict, which was released this year.