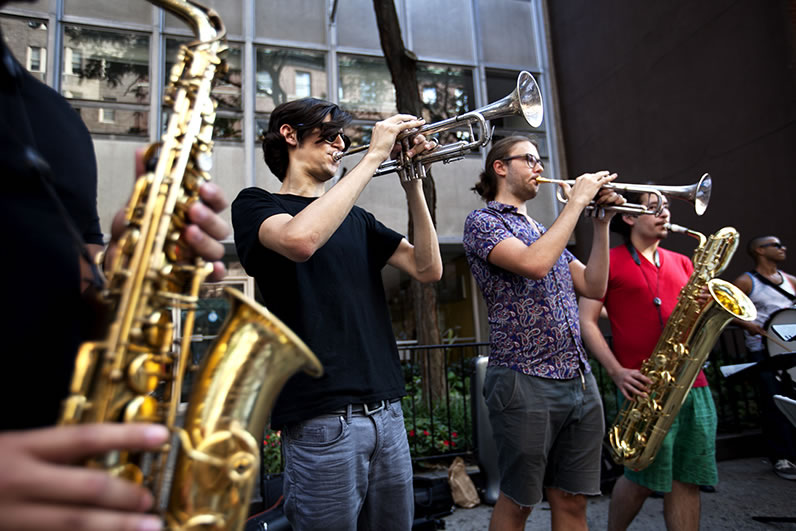 New Kids On The Block: Get Involved, Make Friends, Eat Free Food
What does social justice mean to you? New School students had plenty to say at last year's block party, jotting down their answers on an enormous sheet of paper at the table for The Antithesis, a student-run online publication started by Petra Jarrar, BA Politics '17.
"I always try to include an interactive element at my table to get students interested," says Jarrar, who has participated in the New School Block Party as a representative of The Antithesis, as well as the University Student Senate and Office of Admission. "The purpose of the block party is for students to learn about New School organizations. By getting more involved in these organizations, they can get more involved in their university community."
To be held Thursday, September 1, 4:30-7:30 p.m., on 12th Street between Fifth and Sixth Avenues, the New School Block Party features free food and activities including art-making workshops, performances from the School of Jazz, presentations from a wide variety of student organizations in which students can get involved, and a tie-dying station for shirts that can then be picked up at The New Store. Students will have the chance to interact with members of on-campus groups such as the Anime Club, New School Debate Team, Wearable Tech, and Zine Collective and also learn about offices on campus such as the Tishman Environment and Design Center, the Lang Office of Civil Engagement, and Student Employees, among many others.
"Freshman year is an exciting time and a perfect opportunity for students to step outside their comfort zones," says Jarrar. "For The Antithesis, I'm looking for students who aspire to change the world, which means that pretty much every student at The New School qualifies to be in our organization."
"Students have the opportunity to learn about and sign up to become a member of more than 50 student organizations," said Shannon Logan, director of Student Development. "Our motto is 'Get Involved, Stay Involved,' which aligns perfectly with the purpose of the block party. You might come for the free food, but you'll stay to find out about all the wonderful resources our university has to offer."
Local businesses will also be on hand, ranging from restaurants including Grey Dog and Nanoosh to off-campus resources for students such as the New York Public Library, Blick Art Materials, and Zipcar.
If you can't make it out to the block party, you can always contact the office for Student Development, which can connect you with any of the university's clubs or organizations.