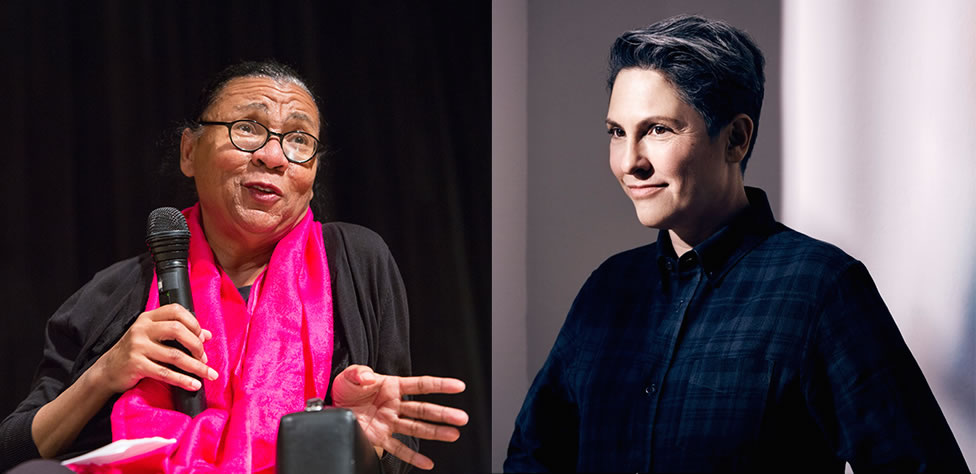 Nth Degree Series Features "Creative Minds Creating Change"
This fall, continuing its century-long legacy as one of New York City's leading destinations for open discussion and thought-provoking public programs, The New School is launching a semester-long series of events titled "The Nth Degree Series: Creative Minds Creating Change."
The series carries forward The New School's tradition of amplifying diverse, creative, and crucial voices by spotlighting agents of change who bring about positive change in the world. Over the course of the semester, celebrated scholars, innovators, and performers will share their work and offer fresh perspectives on some of the most pressing issues of our day.
Renowned scholar bell hooks opens the series with a discussion on injustice, liberation, and identity with Jill Soloway, creator of the boundary-breaking Amazon hit show Transparent. The series continues with an investigation of the meaning of free speech from the internationally acclaimed contemporary historian Timothy Garton Ash, a leading conference on fair labor in the digital economy, performances that showcase the future of music, and conversations on ethical fashion, environmental justice, and more.
For this series' schedule of events, visit http://www.newschool.edu/nth-degree. Be sure to check back throughout the semester as new events will be added.
Highlights:
bell hooks and Jill Soloway on Ending Domination: The Personal Is Political
September 6, 6:00–9:00 p.m., University Center, Tishman Auditorium, 63 Fifth Avenue
The early feminist movement was dedicated to the proposition that the personal is political—an insight that has come to be increasingly mocked and ridiculed. In their careers, renowned scholar, poet, and author bell hooks and Emmy Award–winning television writer and creator of Transparent Jill Soloway have countered this trend, effectively employing autobiography to generate critical discourse and awareness of injustice. In this conversation, hooks and Soloway discuss their excavations of the personal and its politics and how such a search strengthens liberation efforts rather than diminishes them.
Arts Activism and Youth in the System
September 9, 6:30–9:00 p.m., University Center, Tishman Auditorium, 63 Fifth Avenue
September 10, 6:00–8:00 p.m., Johnson/Kaplan Auditorium, 66 West 12th Street
New York is one of only two states in the United States that charges youth ages 16 to 18 as adults in the criminal justice system. Brian Lewis, adjunct professor at Eugene Lang College of Liberal Arts and Rasu Jilani, arts activist and consulting director for the New Museum's NEW INC incubator, present a weekend-long symposium of workshops, panel discussions, and arts events which focus on youth in the criminal justice system and the "Raise the Age" campaign. Youth affected by these issues will share their stories and perspectives in conversation with legal professionals, legislators, and the public.
Simone Cipriani Talks Textiles for the Ethical Fashion Initiative
September 13, 4:00–6:00 p.m., University Center, UL105, 63 Fifth Avenue
United Nations officer Simone Cipriani discusses his work in Burkina Faso and Mali for the Ethical Fashion Initiative, touching upon the subjects of hand-weaving, natural dyes, new fibers, and textiles in the fashion supply chain. The Ethical Fashion Initiative connects artisans from the developing world to the international fashion value chain and, in doing so, harnesses fashion as a vehicle for development. This event is also part of New York Textile Month.
ArtTable Leadership Panel: NYC Women Museum Directors
September 19, 6:30 p.m., University Center, Tishman Auditorium, 63 Fifth Avenue
This panel discussion features the women helming art museums in four of New York City's boroughs: Holly Block, executive director, The Bronx Museum of the Arts; Thelma Golden, director and chief curator, The Studio Museum in Harlem; Anne Pasternak, Shelby White and Leon Levy Director, the Brooklyn Museum; and Laura Raicovich, president and executive director, the Queens Museum. Moderated by co-chief art critic of The New York Times Roberta Smith, the conversation focuses on the role each institution plays in its community while also featuring insights and anecdotes from each participant.
Mannes American Composers Ensemble: The Future of American Music
September 27 and October 14, 7:30–9:30 p.m., Ernst C. Stiefel Concert Hall, Arnhold Hall, 55 West 13th Street
Founded by Mannes faculty composer Lowell Liebermann and conducted in the 2016/2017 academic year by Alan Pierson and David Fulmer, MACE (The Mannes American Composers Ensemble) champions the music of living American composers. On September 27 under the direction of David Fulmer, MACE performs Matthias Pintscher's Occultation in its New York premiere, Felipe Lara's Tiento, Stravinsky's Septet, and Elliott Carter's Asko Concerto. On October 14 under the direction of Alan Pierson, MACE performs Missy Mazzoli's Sinfonia (for Orbiting Spheres) and Schoenberg's Kammersinfonie, Op. 9.
The 2016 Hans Maeder Lecture: Timothy Garton Ash on Free Speech in an Age of Trumpery
September 29, 6:00–7:30 p.m., University Center, UL105, 63 Fifth Avenue
Historian Timothy Garton Ash proposes a framework for improving free speech in an increasingly connected world, and reflects on the challenges that have arisen even in countries where people enjoy constitutionally guaranteed freedom of expression. The free speech needed for democracy, he argues, requires more than just the negation of freedom from prior state-sponsored constraint.
Visualized 2016: Exploring the Future of Information Communication
October 6, 9:00 a.m.–5:30 p.m., University Center, Tishman Auditorium, 63 Fifth Avenue

The New School is proud to host Visualized 2016, a conference on data visualization and the future of information communication. More than thirty-five of the world's most creative minds discuss the ways in which users communicate, understand, and interact with data. Featuring Professors Aaron Hill and Daniel Sauter of The New School's MS Data Visualization program and thesis projects from four of their former students.
Environmental Justice Then and Now: 25 Years of Environmental Justice
October 26, 6:00 p.m., Arnhold Hall, 55 West 13th Street
Delegates to the First National People of Color Environmental Leadership Summit in 1991 drafted and adopted 17 principles of environmental justice. Since then, the principles have served as a defining document for the growing grassroots movement for environmental justice. The Tishman Environment and Design Center at The New School celebrates the 25th anniversary of the adoption of The Principles, examines the progress of the environmental justice movement, and discusses future goals.
Saariaho/Barrière Visual Portrait Concert performed by Margaret Lancaster
November 3, 7:30 p.m., University Center, Tishman Auditorium, 63 Fifth Avenue
Kaija Saariaho and Jean-Baptiste Barrière, both in residence at The New School's Mannes School of Music, collaborate with flutist Margaret Lancaster in a multimedia event for flute and interactive electronics and video, with stage direction by Luca Veggetti.
Platform Cooperativism Conference: Building the Cooperative Internet
November 11–13, 8:00 a.m.–10:30 p.m., Wollman Hall, 65 West 11th Street 
Professor Trebor Scholz continues his exploration of the digital economy with his annual "Platform Cooperativism" event, which has sparked conferences and community meetings around the world. This year, Scholz focuses on collective ownership on the Internet and a fairer future of work, examining freelance cooperatives, crowdfunding, and de-centralized sharing networks.
Continuing Threats to Academic Freedom: Endangered Scholars Worldwide
November 18, 6:00–8:00 p.m., University Center, UL104, 63 Fifth Avenue
The New School's Center for Public Scholarship and Endangered Scholars Worldwide present a panel discussion on the state of free inquiry and threats to free expression in universities in China, Syria, and Turkey. Following the failed coup in Istanbul and the unprecedented purge of academics at Turkish universities, the ongoing civil war in Syria, and deepening questions about academic freedom in China, this panel of courageous scholars discuss the past, present, and future of free inquiry and its risks in their countries.
Artist Theaster Gates on Art, Cities, and Social Change
November 21, Time and Location TBD

Artist Theaster Gates to speak on art and social change.