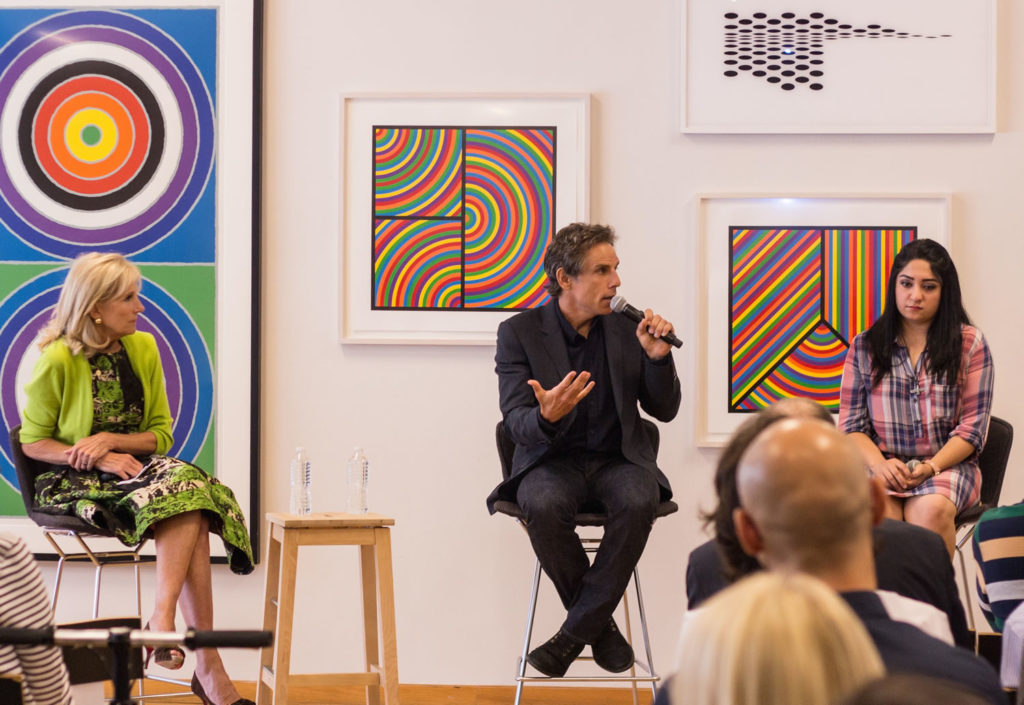 Building Empathy Through Storytelling: Jill Biden, Ben Stiller Amplify Refugee Narratives
Dr. Jill Biden vividly remembers the day she turned on the news and saw images of Somali children in the refugee camps of Dadaab, Kenya. The story was so moving, so motivating, that Biden wasted no time asking her staff, "What can we do about this?"
"You look at this child, and you think, 'This could be my child,'" Biden told an audience at The New School's Wollman Hall. "That's the power of storytelling."
Biden made her remarks at Making Media That Matters: Amplifying Stories of Refugees, a panel discussion that brought together the Second Lady of the United States with actor, director, and advocate Ben Stiller; members of refugee communities, refugee service providers, government officials, and leaders from the technology, media, and entertainment industries to discuss strategies for harnessing the power of storytelling to highlight and amplify the stories of refugees. The event was co-hosted by the U.S. State Department and the School of Media Studies.  
Founded in 1933 as the University in Exile, an academic haven for scholars escaping persecution in Europe, The New School was an ideal setting for the event.
"At The New School, we use design thinking and social engagement to unpack and devise solutions to serious problems," New School President David Van Zandt said in his introductory remarks. "From the School of Media Studies to the Zolberg Institute on Migration and Mobility to the Julien J. Studley Graduate Program in International Affairs [GPIA], there are so many New School-based organizations here today who are working on this difficult problem."
Stiller, who most recently starred in the film Zoolander 2, acknowledged he didn't quite fit in with the crowd ("I kind of feel like I'm in that Sesame Street song 'One of These Things Is Not Like the Others'"). Nevertheless, he spoke passionately about the emotional impact of a recent trip he made to meet refugees in Berlin. Stiller sat down with a family from Mosul, Iraq, who had paid traffickers to smuggle them into Greece; a mother from Aleppo, Syria, who had set up a makeshift salon in the shelter; and an 11-year-old boy, also from Aleppo, who had worked 12-hour days in Turkey to help his family meet expenses.
"When you come face-to-face with people who have to deal with this reality, it really changes your perception of their experience," Stiller said. "President Obama put it best when he said, 'We have to put ourselves in their shoes and think about what it would be like if our homes were gone and we had to start all over again.'"
The most effective way to do that, Stiller added, is through innovative, empowering storytelling.
"We can use the media to engage people on a one-to-one level," he said. "The footage coming from places like Syria and Iraq is numbing. But we have to fight through that and put a personal face on it."
To that end, many storytelling projects are encouraging refugees to tell their own stories, in their own words. Faiza Gareb, who sat onstage with Stiller, Biden, and Zafar, did just that, describing the daily struggle for survival in Aleppo, the center of the Syrian Civil War.
"It was a hard life for us in Syria — every second, somebody can kill you and nobody asks why," said Gareb, 21, who has since settled in the United States. "Our dreams, smiles, and futures have all been destroyed. We lost our house, our home, and we had to begin a new life in a place where we didn't know what was waiting for us."
Members of the New School community have undertaken a range of projects to highlight the stories and struggles of refugees. Students in the GPIA International Field Program recently traveled to Turkey, Greece, Bulgaria, and Serbia to follow a refugee route, visit refugee camps, and study resettlement policy.
Katie Masi, GPIA '17, a student who worked on that project, cherished the exchange of ideas between the diverse groups at the event.
"A major question that was raised was how do we turn stories into policy?" Masi said. "This is an important conversation and I think it was great for people from refugee service organizations, the government, and nongovernmental organizations to be there for it."
The New School's Vera List Center for Art and Politics has also worked to highlight refugee narratives. Last year, the Center awarded its prestigious biennial prize to Abounaddara, a Damascus-based film collective that shoots short, intimate video portraits of people from all sides of the Syrian conflict, and hosted an exhibition of the group's work. By creating and publishing the videos, Abounaddara aims to transcend the political and religious context of the conflict and highlight the shared humanity and dignity of the Syrian people.
Finally, the Zolberg Center on Global Migration at The New School for Social Research provides a space for research and scholarship, policy debate, and discussion with activists and artists around issues of global migration and mobility. Last semester, the institute received a $7 million donation from New School trustee Henry Arnhold to expand its mission.
Making Media That Matters: Amplifying Stories of Refugees was another important opportunity for the New School community to show its commitment to confronting one of the most pressing issues of our time — in this case, a humanitarian crisis that can be addressed through technology, media, and storytelling.
"This is a great opportunity, in this context, to talk about how to communicate the stories of refugees," Van Zandt said. "We hope to make a dent, to make some progress on this important issue."