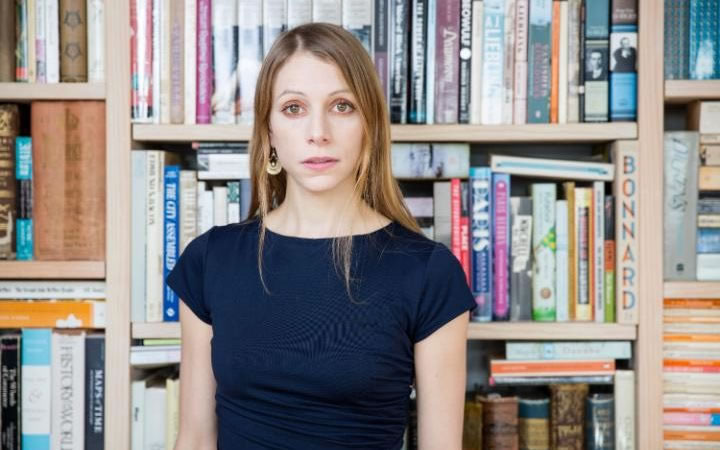 Parsons Faculty Member Lauren Redniss Named 2016 MacArthur Fellow
In her New York City apartment, Lauren Redniss has a drawer filled with ideas that she's written down and filed away.
"Usually," she says, "Because they seem too far-fetched to pursue."
Not that the artist and writer hasn't already realized some big, bold ideas: Her three books of nonfiction graphic storytelling artfully combine illustration, reportage, and history, while tackling subjects ranging from the life of a Ziegfeld Follies star (Century Girl: 100 Years in the Life of Doris Eaton Travis, Last Living Star of the Ziegfeld Follies) to scientists Marie and Pierre Curie (Radioactive: Marie & Pierre Curie, A Tale of Love and Fallout) to weather and climate change (Thunder & Lightning: Weather Past, Present, Future).
Redniss has set the bar for creativity so high, one can only imagine how much more "far-fetched" her back-burner concepts could be. We may not have to imagine much longer.
Redniss, an accomplished illustrator and assistant professor of Illustration at The New School's Parsons School of Design, has been named a 2016 MacArthur Fellow. The honor comes with a no-strings-attached stipend of $625,000, allowing Redniss "maximum freedom" to follow her creative visions, according to the MacArthur website.
"Because of the the MacArthur," Redniss says, "I think I'm going to open that drawer and look at those ideas with a different sense of what's possible."
The MacArthur Fellowship recognizes 23 exceptionally creative individuals with a track record of achievement and the potential for significant contributions in the future. Redniss, a critically acclaimed author with three books to her name, definitely fits the bill.
"While our communities, our nation, and our world face both historic and emerging challenges, these 23 extraordinary individuals give us ample reason for hope," said MacArthur President Julia Stasch. "They are breaking new ground in areas of public concern, in the arts, and in the sciences, often in unexpected ways. Their creativity, dedication, and impact inspire us all."
This isn't the first time Redniss has been applauded for her work. Her most recent book, Thunder & Lightning: Weather Past, Present, Future, won the 2016 PEN/E. O. Wilson Literary Science Writing Award. Her previous book, Radioactive: Marie & Pierre Curie, A Tale of Love and Fallout, was a finalist for the 2011 National Book Award. She also has been a Guggenheim fellow, a fellow the New York Public Library's Cullman Center for Scholars & Writers, and artist-in-residence at the American Museum of Natural History. Her writing and drawing have appeared in numerous publications including The New York Times, for which she was nominated for a Pulitzer Prize.
The MacArthur Fellowship holds special significance in that will open doors — or in Redniss' case, drawers — to new artistic possibilities.
"I think that (the Fellowship) blows open the possibilities," Redniss recently told The Los Angeles Times. "I don't know precisely what that will mean just yet, but already with my current project it gives a new kind of confidence. In my work, I take a lot of oral histories, and I want my work to be as true to those people's stories, and to be worthy of the trust that they give to me, so any way that I can do a better, stronger version of what I've been doing. But who knows! There's so many ideas through the years that pop into my head, and, you know, I think, that's totally impossible, I can't do that. But now: Why not?"