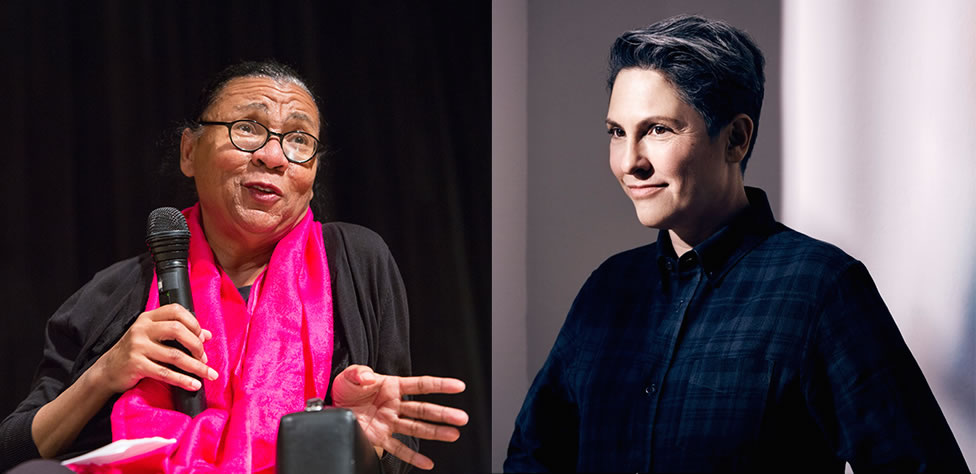 Jill Soloway and bell hooks Make the Personal Political
To generate critical discourse and awareness of injustice, it helps to have two of the most progressive and acclaimed feminists of our time leading the conversation. Poet, author, and scholar bell hooks returns to The New School along with director, writer, and producer Jill Soloway for a discussion, "Ending Domination: The Personal is Political" on Tuesday, September 6 at 6 p.m. in Tishman Auditorium, hosted by Eugene Lang.
hooks and Solloway, who is best known for creating the hit Amazon show Transparent, will discuss how they have made their personal experiences political, generating critical discourse in order to raise awareness on a range of pressing social issues.
The early feminist movement celebrated the idea that the personal is political—an insight that has come to be mocked and ridiculed in popular culture. Through their groundbreaking work, hooks and Soloway are countering this trend.
"I'm beyond excited to have this conversation with bell hooks about making the personal political; the more I think about this topic I realize that what connects the personal to the political is the psychological," said Soloway. "How does growing up in the patriarchy shape the way we attempt to become? I love bell's ideas about love, especially as they apply to gender, race and power movements. I'm hoping our audience will be wowed and inspired, have some burning questions for us, and walk away wanting to explode into their own personal power movements."
This talk kicks off the new Nth Degree Series, a series of events featuring thinkers, visionaries, and creators who bring about positive change in the world—and redefine the cutting edge.