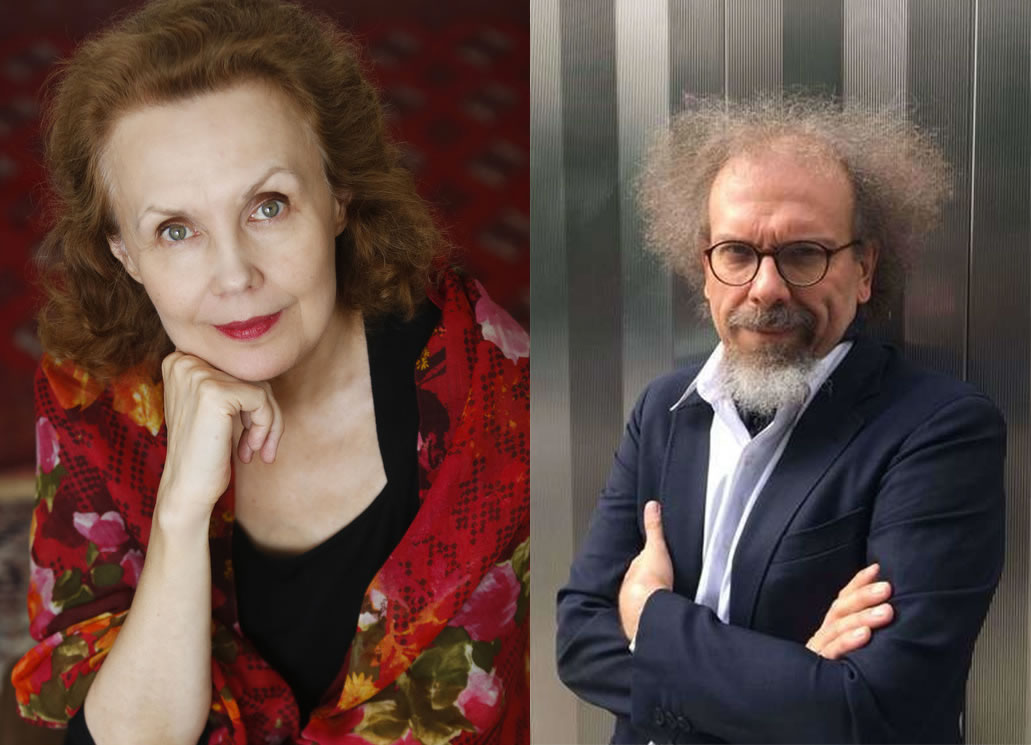 Kaija Saariaho and Jean-Baptiste Barrière Named Mannes Composers-in-Residence
This fall, Mannes School of Music students will have the chance to learn and collaborate with two of the world's most acclaimed modern composers.
Kaija Saariaho, an acclaimed Finnish composer, and Jean-Baptiste Barrière, a Parisian composer and mixed-media artist, will join Mannes in residencies as part of its centennial celebration. Both residencies will culminate in collaborative performances featuring students and faculty from across The New School.
"We are honored to welcome Kaija Saariaho and Jean-Baptiste Barrière in their residencies here at Mannes and the College of Performing Arts," said Richard Kessler, dean of Mannes and executive dean for the College of Performing Arts. "Their revolutionary talents and knowledge, spanning the fields of composition, musical technique, philosophy, and the evolving world of multi-media expression, is sure to make a significant impact among the artistic minds of our students. We are excited for them to bring their unique, world-class specialties here, and we look forward to the incredible collaborations that are certain to result."
In her residency, Saariaho will hold workshops and teaching composition lessons, and participate in panel discussions and lead lectures in which she will discuss her work. The residency will culminate in a collaboration between the International Contemporary Ensemble, La Chambre aux Echos, a French theater company, and Mannes students, in two New York premiere performances of the chamber version of Saariaho's "La Passion de Simone" at the Lynch Theater.
Barrière's interdisciplinary residency will mirror the range of mediums in which he works, from sound installations to multi-media performances to pure composition. Students and faculty from throughout The New School will collaborate with him on his work, which will premiere as the piece "Art of Change."
 Find more information about the events they will be involved in throughout the next year below.
Thursday, October 13 at 11:00 a.m.: Open rehearsal of the Circle Map project with the New York Philharmonic, conducted by Esa Pekka Salonen.
Friday, October 21 from 12-1:30 p.m.: Kaija Saariaho will give a seminar at the Graduate Institute for Design, Ethnography and Social Thought (GIDEST) on the topic of "Composing Opera Today."
Thursday, November 3 at 7:30 p.m.: Saariaho and Barriere visual portrait concert performed by Margaret Lancaster.
Monday, November 14 at 5:00 p.m. at Arnhold Hall: A symposium about Simone Weil and her philosophy with Kaija Saariaho, stage director Aleksi Barriere, and faculty from the New School.
Saturday, November 19 at 7:00 p.m. and Sunday, November 20 at 5:00 p.m. at Lynch Theater: Performances of Kaija Saariaho's oratorio 'La Passion de Simone', a collaboration between ICE, La Chambre aux Echos, and Mannes students. Tickets will go on sale September 26.
December 1-29: A new production of Kaija Saariaho's first opera 'L'Amour de Loin' at the Metropolitan Opera.
Thursday, December 8 at 5:00 p.m. at Arnhold Hall: Kaija Saariaho will give a talk about her music at the Composition Forum.
Please contact Annabelle Avenier-Ramirez with any questions.