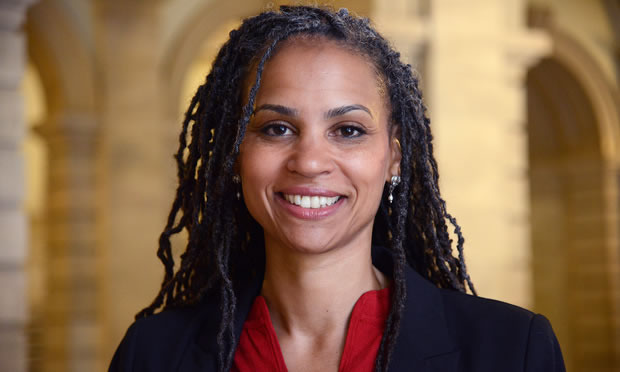 Maya Wiley Shapes the Social Justice Agenda at The New School
When the AIDS epidemic hit in the 1980s, it came with a great deal of stigma. People with the disease faced discrimination in housing, employment, and health care, creating an urgent need for legal support.
Maya Wiley confronted this need head-on. Joining Columbia University's AIDS Anti-Discrimination Law Clinic, she worked to create equity and justice for people living with the disease.
"My teachers had the vision to create a cutting-edge anti-discrimination clinic to train new lawyers who provided a service to the community," she says. "You weren't siloed in the classroom. You gained the analytic and strategic skills to go out in the world and solve pressing social issues."
From her experience working and studying at Columbia to advising New York City Mayor Bill de Blasio on a range of legal issues to chairing the New York City Civilian Complaint Review Board, Wiley has made a career of going out in the world and fostering a more inclusive, just, and equitable society.
And though she is nearly 30 years removed from the sphere of higher education, she has maintained her firm belief in the power of educational institutions, driven by a real-world pedagogical approach, to advance social justice causes.
It is this belief that led her to an institution where scholars, performers, artists, and designers fearlessly create positive change. This year, Wiley joined The New School as its senior vice president for Social Justice and as the Henry Cohen Professor of Urban Policy and Management at the Milano School of International Affairs, Management, and Urban Policy. In her new role, Wiley is working with the university's senior leadership team and key constituencies to advance the university's social justice agenda both inside and outside of the university.
"First, it's about working within the university to build strategies for supporting students; second, it's about using those same strategies to think about how the university can change the world," Wiley said. "The New School isn't merely an academic ivory tower—it's a place where students, faculty, and staff are all engaged in creating a more just society."
Within the university Wiley hopes to imbue the curriculum with social justice teachings and perspectives while creating mechanisms of support for students with concerns related to gender, sexuality, race, religion, and economics. Wiley also hopes to shape students into leaders who create social change in the community.
Digital equity, Wiley says, is one area in which New School students are uniquely positioned to drive progress.
"The New School is training designers who are critically important to shaping the technological revolution," says Wiley, who, as de Blasio's counsel, worked to bring free high-speed broadband service to more than 16,000 New Yorkers living in five of the city's public housing developments. "The economy is rapidly evolving, creating huge social divides in terms of access to technology. With their training, New School students can help to create and implement innovative strategies and policies to ensure that everyone has access to tools, particularly broadband, that allow them to participate in democracy, education, and the economy."
Wiley's role as senior vice president of Social Justice dovetails with her position as the Henry Cohen Professor of Urban Policy and Management. As a teacher, Wiley will provide a new generation of leaders with the educational and practical training to tackle pressing issues related to social justice. She will also work to initiate public policy discourses with outside partners such as governments, businesses, and nonprofit and philanthropic organizations.
"They're separate roles, but there's a lot of interaction between them," Wiley says.
Wiley's appointments mark the latest turn in a career defined by social advocacy. A civil rights attorney and policy advocate, she has litigated, lobbied the U.S. Congress, and developed programs to transform structural racism in the United States and in South Africa. As the counsel to de Blasio, she advised the mayor on legal matters involving City Hall and the executive staff, as well as legal aspects of policy related to minority and women's interests. In addition, Wiley is the founder and former president of the Center for Social Inclusion, a national policy strategy organization focusing on racial inclusion.
As the senior vice president for Social Justice, Wiley will be able to give New School students the same opportunity she had as a law student: to develop the analytic and strategic skills to go out in the world and address pressing social issues.
"For me, this is a wonderful next level of challenge and opportunity to continue to invest in making the world a fair and just place," Wiley says. "At The New School, I'm in an environment where people care very deeply about social justice."