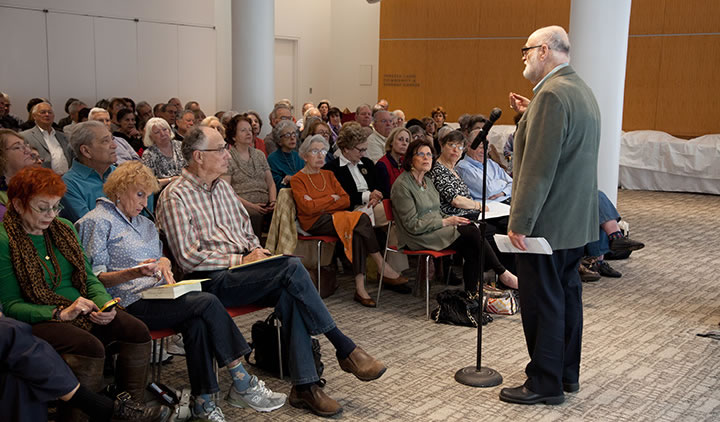 Michael Markowitz, Director of the Institute for Retired Professionals, to Retire
Michael Markowitz, the longtime director of the Institute for Retired Professionals (IRP), announced that he would retire after 28 years of leading The New School's post-career peer learning community.
Joining the IRP after a 12-year stint as The New School's director of Human Resources, Markowitz made an enormous positive impact on the organization, helping to bolster its enrollment, raise its national profile, and make lifelong learning opportunities accessible to hundreds of retired people.
Founded 54 years ago, the IRP has grown from an off-beat experiment in adult education to the flagship community of the Institutes of Learning in Retirement movement that has spread to more than 500 universities worldwide.
"The I.R.P. is very fortunate to be affiliated with The New School," says Markowitz, who turned 80 this year. "We've been an educational experiment from the beginning, and we are always trying to remain relevant as the world changes."
A wide ranging search is being conducted to replace Markowitz.
Founded in 1962, the I.R.P. was the brainchild of Hyman G. Hirsch, a former high school social studies teacher and lawyer who craved learning opportunities in his retirement. With the help of then New School president Henry David, the IRP was established at the university as a place for retirees to pursue their academic interests and take university courses at a reduced fee. I.R.P.-specific courses were later created on the basis of peer learning, a model in which students share their knowledge on a particular subject.
The innovative program drew immediate interest. At a 1962 press conference at The New School, then Sen. Jacob Javits predicted, "The I.R.P. will become a model for all universities to follow." Two years later, the I.R.P. became the focus of national attention when an issue of the journal Aging ran an article and photographs about the program. By 1971, the I.R.P. had become a model of adult education and Hirsch was named a delegate to the White House Conference on Aging.
When Markowitz joined the IRP in 1988, he made it his mission to to broaden the IRP's membership to reflect the greater population of the dynamic city outside The New School's door: doctors, scientists, lawyers, journalists, technicians, as well as those engaged in business and nonprofit endeavors. Today, the IRP is stronger than ever.
"I thought there should be a broadening of our I.R.P. society, our interests and our social development, how issues of the day play in our classrooms," he says. "Today, for instance, we are seeing how the idea of 'Social Justice' in society is reflected in subjects being presented in the classroom by newer members."