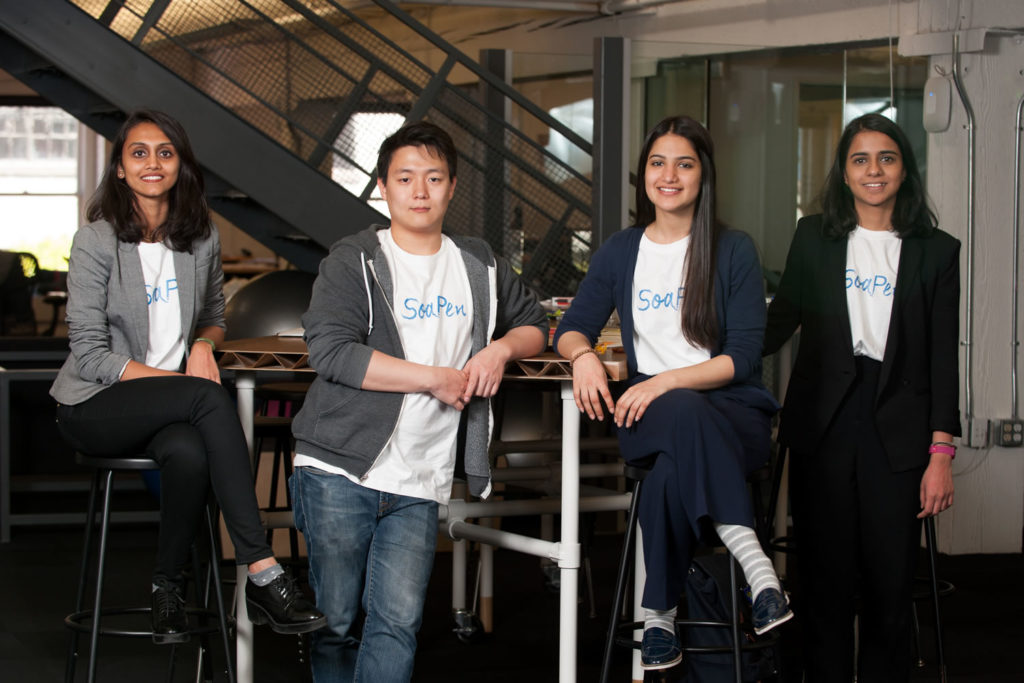 Parsons Students and SoaPen Designers Are Finalists in Dyson Foundation Contest
Last year, Amanat Anand, Junho Byun, Yogita Agrawal, and Shubham Issar, BFA Product Design '15, won praise—and awards—for their wearable and portable "soap crayon" that promotes hand washing habits among children by tapping into their passion for creativity.
The designers took home the prestigious 2015 UNICEF Wearables for Good Challenge, a competition that challenged members of the global maker community "to design wearable and sensor technology that serves people in resource constrained environments."
Now, the Parsons alums are earning accolades once again—this time, as finalists in The James Dyson Award 2016, an annual international design competition hosted by Dyson's charitable arm, the James Dyson Foundation. The competition provides university design and engineering students with a platform to launch their ideas; prizes of $45,000, $7,500, $3,500 are awarded to international winners, international runners-up, and national winners, respectively.
SoaPen is a stellar example of the kind of socially engaged design Parsons students and alumni pursue. Every year, millions of children die from illnesses that could have been prevented by washing their hands before eating and after coughing, sneezing, playing outdoors, or using the toilet. With SoaPen, kids can draw on themselves and each other; then, when they can use the soapy substance from the drawing to wash their hands.
"Its simple design is highly scalable and low-cost, which will allow the product to reach as many hands as fast as possible," the students said in an interview with UNICEF. "SoaPen can be recreated anywhere in the world to help promote good hygiene through hand-washing in communities across the globe."