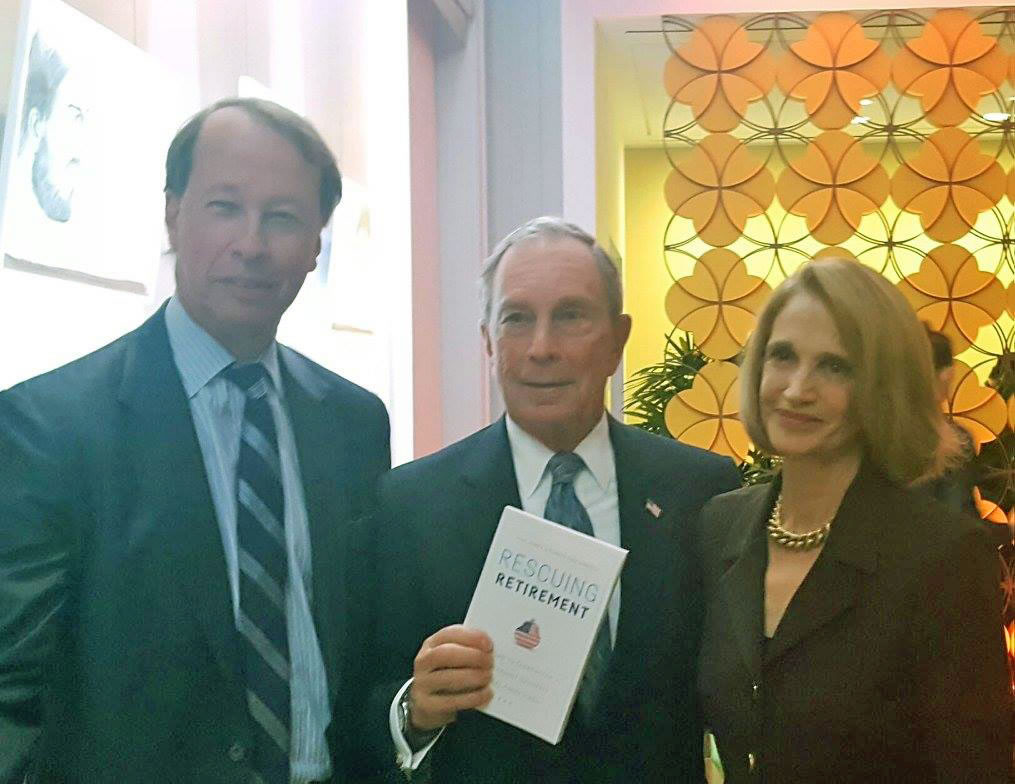 Teresa Ghilarducci Celebrates 'Rescuing Retirement' Release with Michael Bloomberg
Standing before a crowd at the Bloomberg Foundation recently, business magnate and former New York City mayor Michael Bloomberg warned about the looming retirement saving crisis.
"Americans are dramatically under-saving for retirement," Bloomberg said, before tossing out startling statistics: 55 percent of today's workers will have to rely solely on social security when they retire, the average retirement savings of 45- to 55-year-olds is $14,500, and 25 million Americans will face poverty or near-poverty in retirement by 2050.
"Just think about what's going to happen when more and more retirees run out of savings," he added. "We're not going to let them starve or go homeless. The next generation is going to have to pony up some money. I don't think we should be saddling our children and grandchildren with debts we should be paying right now. We ought to be finding new ways to promote and encourage savings."
Thankfully, Teresa Ghilarducci, faculty member at The New School for Social Research, has a comprehensive solution.
Ghilarducci's new book with Hamilton "Tony" James, Rescuing Retirement: A Plan to Guarantee Retirement Security for All Americans, outlines a deficit-neutral proposal to ensure that all workers can save enough to retire through mandated, individually-owned, and effectively-invested "Guaranteed Retirement Accounts." Left unaddressed, the authors emphasize, the strain of a newly poor population of senior citizens would devastate federal, state, and local budgets for decades to come.
"What Tony and I decided to do is not just have a framework about the problem. What we have created is a detailed plan that people can actually debate and refine in the halls of Congress and in union halls and church basements across the country," Ghilarducci said during the launch event for her book, which was attended by Bloomberg and New School President David Van Zandt. "We want to grieve but we want to have a remedy as well."
The publication of the book coincides with the launch of a website dedicated to the plan and its promotion, rescuingretirement.org, and a social campaign driven by the hashtag #fixretirement on Twitter and Facebook.
Ghilarducci is one of the nation's leading experts on retirement security. She previously published How to Retire with Enough Money: And How to Know What Enough Is, in which she cuts through misinformation and bad policymaking to deliver the basic principles that will help readers grow their investments, and When I'm Sixty-Four: The Plot against Pensions and the Plan to Save Them, in which she tackles the pressing issue of America's retirement savings crisis and makes the case for an expansion of Social Security.